Peterborough and Stamford Hospitals trying to secure £25m a year support package to help finance PFI deal
Trust estimates it needs £650m of central financial support up until 2042
Received £20.8m of central support in 2016-17 but still forecasts a £20.2m deficit
FINANCE: Peterborough and Stamford Hospitals Foundation Trust estimates it needs £650m of central financial support over the next 26 years to finance its £1.8bn private finance initiative deal.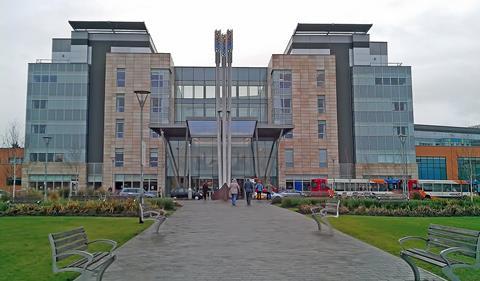 HSJ has learned the trust is trying to secure a revised £25m a year support package with NHS Improvement to address the cost of the PFI deal for the construction and some of the running costs of Peterborough City Hospital.
The trust said the amount reflected the "extra support we need for the premium cost of the PFI over and above the average cost of an NHS funded hospital".
Chief executive Stephen Graves said the trust currently received £10m a year "to contribute to a £25m problem, and we continue to work with NHS Improvement to solve the outstanding £15m".
He said the requirement for £25m of central support was a figure recommended by a Monitor contingency planning team that reviewed the trust in September 2013.
The trust has agreed to a control total of £20.2m deficit for 2016-17. However, in addition to the £10m of PFI support already agreed, it has received £10.8m sustainability and transformation funding, without which its deficit would be more than £40m.
Mr Graves said the trust had made good progress on the review's three other recommendations: to hit its cost improvement plan targets; better integration with its local health economy; and better use of the hospital's estate.
This is the fifth year in a row the trust has met its comprehensive cost improvement programme targets, he said.
He added: "[The second recommendation] that we rapidly progressed joined up working across the local health economy is evidenced by our involvement in the system transformation programme, of which one part is the potential merger with Hinchingbrooke Health Care Trust.
"The third recommendation was that we continue to work towards making better use of the underutilised estate to provide additional clinical capacity. The expansion to both the radiotherapy department and renal services are on track to be operational next year."
The 611-bed hospital cost £411m to build and finance, but the estimated liability of the PFI deal is £1.8bn, because of running and maintenance costs and other commitments up until 2024. While it is acknowledged to be a state of the art hospital facility, the financing arrangements means it is financially unsustainable without central support.
The trust announced last week it was drawing up a full business case for merging with Hinchingbrooke by 2017, which will be discussed by both boards later this year.
An outline business case in May said it could deliver £9m of annual savings by merging, primarily through back-office efficiency.
NHS Improvement declined to comment.