Nottingham University Hospitals Trust name preferred organisation to merge with Sherwood Forest Hospitals
NUH proposal was chosen because if offered the best long term benefits to patients
The trust will provide immediate assistance ahead of a formal merger
STRUCTURE: Nottingham University Hospitals Trust has been named as the preferred organisation to acquire neighbouring Sherwood Forest Hospitals Foundation Trust.
The announcement comes after the troubled Nottinghamshire acute provider said last month that it had no future as an independent organisation and was searching for another organisation to take it on.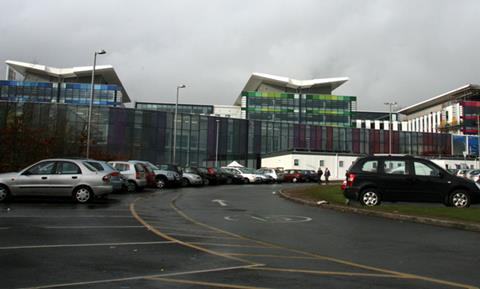 Derby Teaching Hospitals FT had also expressed interest in becoming a long term partner, but Sherwood Forest said NUH's proposal offered the best long term benefits to patients.
Sherwood Forest, which has been in special measures since 2013, said that joining with NUH to create a single organisation was a "clear strategic fit".
The trust said NUH's proposal showed that it would be able to provide:
strong support from its senior clinicians;
regular patient movement between the trusts; and
an ability to easily release its staff to work with Sherwood Forest's hospital teams to support immediate improvement.
NUH will provide Sherwood Forest with immediate support to improve clinical performance.
The merger would likely be a major challenge to NUH, which is forecasting a year-end deficit of £49.2m. Sherwood Forest is predicting a £33m shortfall.
Sherwood Forest Hospitals' interim chief executive Peter Herring said: "We believe this partnership will give us the best opportunity to move forward with a fresh start to improve and deliver the highest quality services in a sustainable way for our patients.
"We look forward to working with Nottingham University Hospitals and creating a new larger, combined organisation with them.
"Ahead of a formal transaction to join the two trusts, the team at Nottingham University Hospitals will give us some immediate support to help us continue to make clinical improvements.
"In the medium term, the partnership will bring us a stable leadership team and improvements in governance. In the longer term, the new organisation will bring stronger opportunities for clinically and financially sustainable services for our local communities.
"We would like to thank Derby Teaching Hospitals for the hard work they put into developing their very credible proposal."
NUH chief executive Peter Homa said: "This is a unique opportunity to further improve patient care and services and help achieve clinical quality and financial sustainability for the health and social care system across Nottinghamshire.
"In the short term, we will deploy extra staff to work with teams at Sherwood Forest to further embed and accelerate recent improvements in the areas highlighted by the Care Quality Commission.
"We have very carefully considered the capacity and conditions required to make this partnership a success, as we confront our own challenges.
"We judge that with additional resources and strong commitment for this strengthened relationship with Sherwood Forest that we have the right capacity, expertise and experience to take on this substantial endeavour."
The providers must now develop a business case to be assessed by NHS Improvement, and the proposals will go to the Competition and Markets Authority if necessary.
Source
NUH and Sherwood Forest statements
Source date
15 February 2016