St George's University Hospitals Foundation Trust rated inadequate
Inspectors find several buildings not fit for purpose
Chair blames "very poor board and senior management decisions in the past" for many of the problems
Discussions have taken place over "informal buddy relationship" to support the trust
St George's University Hospitals Foundation Trust has been placed in special measures by NHS Improvement after it was rated it inadequate.
The Care Quality Commission's report, published today, follows an inspection of the south London teaching trust in June. Inspectors rated the trust inadequate in terms of being safe and well led, and requires improvement for being effective and responsive. Its services were rated good for being caring.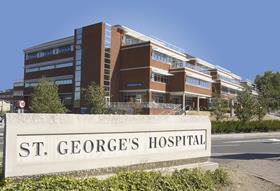 Chief inspector of hospitals Professor Sir Mike Richards said there had been a "marked deterioration in the safety and quality of some of the trust's services" since the CQC inspected two years ago.
Earlier this year chief executive Mile Scott stepped down, following regulatory scrutiny of the trust's sudden financial decline in 2015. Acting chief executive Paula Vasco-Knight was then suspended over serious financial allegations less than two weeks after Mr Scott's departure. In June she pleaded not guilty to three counts of fraud, with the case due to be heard in January.
Interim chair Sir David Henshaw told HSJ "a very poor board and senior management decisions in the past" were to blame for many of the challenges now faced by the trust.
Inspectors found several of the trust's buildings were not fit for purpose. Sixteen out of 31 operating theatres were in such a state of disrepair that staff were obliged to implement "contingency plans which included the elective closure of operating theatres when electrical faults or unsafe temperatures posed risks".
Two of the theatres have since been refurbished, the trust said.
The emergency department was not large enough for the number of patients passing through it, meaning their privacy and dignity was sometimes compromised, the CQC said.
Inspectors also said "not all staff followed infection control procedures, even when challenged by colleagues".
"Worryingly, we found that areas in which children and young people with mental health conditions were cared for had not been checked for ligature points, and that half of the medical staff working with children and young people had not completed level three safeguarding training, which is a requirement for all staff working with children," the CQC report said.
Sir David said the trust had taken immediate steps to safeguard children with mental health conditions. Potential ligature points on one ward were removed within hours of being identified, Sir David said. There has also been an increase safeguarding training for staff.
To improve infection control, the trust has appointed a new chief nurse and director of infection prevention and control, as well as three new non-executive directors.
"These permanent appointments strengthen the trust board, and will provide greater stability for the organisation going forward," he said.
Under the new leadership "real progress has been made. However, as we've always said, there will be no quick fix to the problems we face," Sir David said.
A number of services at the trust were singled out for praise by the CQC, including the renal unit, for delivering some of the "best survival outcomes for patients in the country". The specialist medical and surgical teams were highlighted for strong clinical outcomes, and the maternity team was described as "outstanding".
Professor Simon Mackenzie has been the trust's interim chief executive since March. He told HSJ it was "not a good time for trust [but] I am confident that we can get our way out of this".
He said an "inferior building, complete with 1970's wiring, plumbing and heating" was hindering a very talented pool of staff.
"The task now is to improve those things. But getting the funding is a real challenge. We are in discussions with NHS Improvement and NHS England because of the amount of funding that is required is more than the trust can generate itself.
"There are things we can do without spending money, like managing medicines better. Or making sure we have boilers that work – including a back-up boiler.
"We don't need to put up new buildings but we do need to demolish our worst buildings which are a drain rather than an asset."
Professor Mackenzie said the trust had lightened the load on its estate by moving some services offsite. "But our long plan is to refurbish our accommodation rather than to build a whopping new building."
He said the trust "has had discussions with NHS Improvement and NHS England about establishing an informal buddy relationship" with another trust which has been through a similar process. "I have supported other trusts in difficulties so I am hoping for some support in return," he added.
NHS Improvement said it will work with the trust to develop a quality improvement plan, appoint an improvement director, and provide assistance with plans for urgent estate repair work.
Steve Russell, NHSI's executive regional managing director for London, said: "The CQC's report highlights that a significant range of challenges were observed at the time of the inspection, which the trust leadership team are aware of and are already taking action to make improvements.
"We recognise the scale of work that is required to secure the level of improvement that is needed is significant and we are working with the trust to consider the necessary steps to ensure sustainable improvements are made.
"This will include a range of expert advice and support for the trust leadership team, and the implementation and oversight of the trust's quality improvement plan to ensure that the quality and efficiency of services are improved on a sustainable basis."
Source
CQC and NHSI statements; HSJ interviews
Source date
1 November 2016