Trust submits a £200m estates plan to NHS Improvement to prop up crumbling 1970s estate
Staff were left without IT facilities last summer after electrical switch malfunctioned
Six buildings to be demolished because they are not fit for purpose
A struggling teaching trust has submitted a £200m estates plan to NHS Improvement in a bid to ensure its estate is safe and fit for purpose.
St George's University Hospitals Foundation Trust drew up the formal estates strategy at the request of NHSI, after Care Quality Commission inspectors issued a warning notice to the trust for breaches in regulations related to safe and fit premises.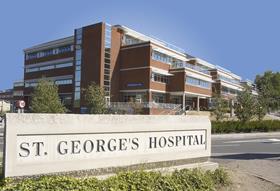 A trust spokesman said: "We have taken action to stabilise the situation – including vacating old buildings that are no longer fit for purpose – and we have restarted the preventative maintenance programme."
"There will, however, be no quick fix to the challenges we face – and our estates strategy makes clear that significant investment is required in the future if we are to deliver real, long lasting improvements."
The estates plan focuses on basic infrastructure such as heating, theatre refurbishment, repairs and a backlog of building maintenance, a senior source close to the trust told HSJ.
The business case was "about basics", they said. "It is about the building being watertight. At one point last year we were down to one boiler."
They added: "Last summer we had no IT for five hours. That was because a single switch had malfunctioned. There are 150 of those switches.
"If we are to deliver normal routine services, we are going to need to do this work. This is about fundamentals. A serious infrastructure failure at St George's will not just affect this trust. It will have a huge knock-on effect."
Trust leaders requested an audit of St George's estate in early 2016, which uncovered significant problems. Basic maintenance and routine upgrading had been put off for decades.
Concerns about the safety of the premises were reinforced following the CQC last June. The trust, which has a deficit of £74m, took immediate action in response to the CQC's concerns but was still rated inadequate.
Poor maintenance of buildings was a contributing factor to this rating, the inspection report said.
The trust was issued with a section 29A warning notice for breaches in regulations related to safe and fit premises.
The trust decided to demolish six buildings that were not fit for purpose. "Half of the of the maintenance team's time was being spent making repairs on buildings that were fundamentally beyond reasonable use," the senior source said.
Administrative staff, which accounted for 75 per cent of floor space in the six buildings, have been rehoused off campus. Clinical services have been rehoused onsite.
The long term plan is to replace old facilities with new ones, using funding from a combination of sources including trust capital allocation, charitable funding, NHSI, Department of Health funding and private partnership.
The funding has not yet been secured.
Source
Information provided to HSJ