Trust proposes compulsory requirement that maternity patients prove their right to NHS care
Revised national guidance "is likely to advocate routine presentation of proof of identity and eligibility"
Board papers suggest new legislation will "incorporate charging for A&E and ambulance services" if patients have no proof of eligibility
St George's seen as an "easy target" by maternity patients abroad
A London teaching trust is working on proposals to deny free maternity care to 'non-eligible' women from overseas, by requiring all patients to prove they are entitled to use the NHS.
The proposals have been revealed as part of a pilot scheme being devised by St George's University Hospitals Foundation Trust.
The trust says the government is also working on new rules to ensure charges for overseas patients are enforced, and that the Home Office is "very keen to formally support this pilot".
The documents say if the pilot study is successful "the aim would be to roll it out across the hospital to safeguard all 'front door' access".
The October board papers also reveal:
The Cabinet Office and Department of Health are currently working on new national guidance which is "likely to advocate routine presentation of proof of identity and eligibility" for NHS care.
"Legislation is due to incorporate charging for accident and emergency and ambulance services, which will mean that trusts will have to insist that this documentation is provided before care is given (unless it is an emergency/life or death situation)."
St George's has been "made aware that individuals are currently offering paid assistance to women in Nigeria to have their babies for free on the NHS" at St George's because the trust is viewed as an "easy target".
The board papers say the cost of non-eligible overseas patients to the local system is £4.6m a year.
According to the proposals, which have been produced by St George's head of private and overseas patients, Jo Johnson, current trust policy for assessing eligibility "is generally not being followed" and "system weaknesses" mean some relevant information is either not recorded or lost.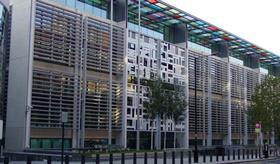 Currently frontline staff in accident and emergency and obstetrics are responsible for trying to work out if a new patient is eligible for treatment. However, the papers say in many cases staff are "too embarrassed" to ask whether a patient is eligible, and there are "several categories for non-eligibility which makes the legal framework very complicated".
Clawing back money after treatment has been given can take many months and only leads to a small proportion of costs being recovered.
Under the proposals, women will have to prove their right to use the NHS when their procedure is booked in. "At booking every patient will need to show a form of photo ID or proof of their right to remain (asylum status, visa, etc)," the board papers say. "Any patient who is unable to do this will be referred to the trust's overseas patient team for specialist document screening, in liaison with the UK Border Agency and the Home Office."
To avoid charges of discrimination, the trust says it would create a "blanket process for every woman referred or self-referred to St George's for obstetric care", the papers say. They add: "No one will be discriminated against… The intention is for this to become standard procedure."
Because "there will always be exceptions and patients may need to have access to services for clinical, ethical or moral reasons", Ms Johnson said the trust "would advocate that patients are always treated as individuals and that each case is assessed on its own merits".
However, discussions about the proposals with Wandsworth Clinical Commissioning Group have been "slow to get off the ground due principally to some reluctance on [the CCG's] part to fully engage with the issue from St George's perspective."
A letter to the trust from Michael Lane, joint clinical lead and board member for Wandsworth CCG, said he supported the trust's desire to protect itself financially. However, he said: "I have a commissioner duty to ensure that your proposals don't result in unwarranted delays, poorer clinical outcomes or serious incidents, that national targets, [for example] early booking rates, don't suffer, and I know our public health colleagues will share my hope that health inequalities don't increase."
A spokesman for St George's said: "This is a proposal and not a plan. Further work would need to be undertaken, including speaking to key stakeholders before we would be in a position to proceed with the pilot.
"Like many London trusts, we treat a high number of patients from overseas who are not eligible for NHS treatment. All patients in need of emergency NHS care at St George's are treated and prioritised accordingly, regardless of their eligibility. Our priority at all times is to provide care and treatment to patients requiring our services. However, we also have a duty to ensure we use our resources wisely.
"Guidelines state that hospitals should endeavour to check patients for their eligibility when accessing non-emergency NHS treatment. We are not doing this effectively enough at present, and are looking at ways in which we can improve this.
"We will continue to treat patients presenting to St George's, whilst also looking at ways of tightening up our existing processes for ineligible patients accessing non-emergency treatment."
Source
Trust board papers and information provided to HSJ