The chief executive of Sussex Partnership Foundation Trust, Colm Donaghy, has announced he will retire in March next year.
Mr Donaghy joined Sussex Partnership in July 2014 from Belfast Health and Social Care Trust, where he was chief executive of the largest healthcare provider in Northern Ireland.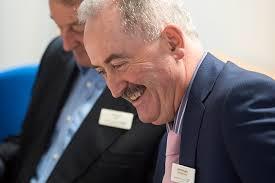 He is a member of NHS Improvement's chief executive's advisory group and a member of the national policy board for NHS Providers.
Sussex Partnership is a widely regarded as one of the country's most progressive mental health providers, however it was rated requires improvment in July last year. It has 601 beds and an income of £245m in 2015-16.
A spokeswoman for the trust said Mr Donaghy's successes included: improving crisis care including extending successful street triage programme across the county; reducing the number of people with mental illness being detained in police custody; and establishing strong relationships with local partners including the police and local commissioners.
The trust has faced a challenges in recent years. Langley Green Hospital was closed following a routine inspection by the Care Quality Commission, shortly after Mr Donaghy arrived. Inspectors found that not all staff had received relevant training in the use of restraint or safeguarding. Nor were patients always treated with dignity.
A CQC report in March this year criticised the trust for inadequately separating men and women's sleeping areas and bathrooms.
Two months later the trust and NHS England jointly commissioned an independent review into the cases of patients at the trust involved in homicides, after a patient, Matthew Daley, was found guilty of manslaughter on the grounds of diminished responsibility. The review is currently looking into the 10 cases between 2011 and 2016 involving the trust's patients.
Truct chair Caroline Armitage, said: "Colm has had a huge impact at Sussex Partnership since joining in July 2014. He is passionate about making sure that patients are our first priority in everything we do and has had a significant, positive impact upon the culture of our organisation.
"Colm will be sorely missed when he leaves us at the end of March 2017. My colleagues and I at Sussex Partnership wish him and his family well for the future. I know he wants me to emphasise that he will continue to play an active role over the next six months in everything we are doing to improve services for patients.
"We will be advertising the post of chief executive shortly and my intention is to have a replacement in post to succeed Colm on 1 April 2017."
Mr Donaghy said: "I will have worked in public services for 38 years by the end of next March, which feels like the right time to retire. My wife and I also have plans to return to Ireland to be closer to our family once again.
"It's been a privilege to do this job because it's given me the opportunity to have a positive impact on people's lives in Kent and Medway, Hampshire and Sussex."
Source date
29 September 2016