Teaching trust forced to restrict operations for second time in six weeks
University Hospitals Leicester puts seven day restriction on elective work
The move follows a 12 day restriction covering February half-term
One of the NHS's largest trusts has been forced to restrict elective activity for the second time in six weeks due to high demand.
University Hospitals Leicester Trust halted all elective activity apart from the most critical operations between 21 and 28 March to free up staff and bed capacity for emergency and cancer services.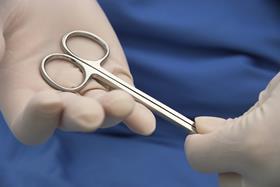 A message to staff last week, seen by HSJ, said: "Despite the benefit we saw for much of February and early March from previously reducing our elective activity and concentrating on emergency patients, we unfortunately have been in a very difficult position over the last couple of weeks."
The message, from the trust's medical director and chief operating officer, said the move had been driven by "high attendance in emergency department and high admissions at the Glenfield and the General [hospitals]. This has resulted in very high emergency department occupancy and wait to be seen times and poor ambulance handover performance".
The restriction applied to all patients who were not on a cancer pathway (diagnostic and treatment); patients at 48 weeks waiting and above (referral to treatment); clinically urgent; or day case patients where cancelling would not release bed capacity or staff to support acute surgical assessment.
It followed a similar restriction over 8 and 19 February, to cover half-term week. The trust said at the time it was the first time the trust had been forced into such a move for the first time in "around four years".
The amount of cancelled elective work has caused the trust's financial position to deteriorate. It was forced to revise its 2016-17 year-end forecast from a £20m to £27m deficit in February, after failing to hit its financial targets and losing out on half of its sustainability and transformation funding.
The trust said it was introducing measures such as a recruitment freeze on non-operational staff, and blocking non-essential non-pay spending, to ensure its position did not deteriorate further. It said both the cancellation of elective work and the outsourcing of planned operations to private providers to hit waiting times standards had contributed to the deterioration of finances.
University Hospitals Leicester's performance against the four hour A&E waiting target was 79 per cent for the year up to January, according to its March performance report. The trust was also failing to hit the standard for referral to treatment, cancelled operations and patients rebooked within 28 days, ambulance handover, and 62 day cancer waits.
Source
Statement sent to trust staff