Weston Area Health Trust "temporarily" shuts A&E overnight, citing difficulty maintaining safe staffing levels
CQC issues formal warning over inadequate A&E services
Comes amid wider plans to reconfigure unsustainable clinical services
Trust remains committed to 24/7 urgent care but says service will be unlikely to be "full emergency department"
One of the smallest trust in the country has temporarily shut its emergency department overnight after regulators demanded it urgently address "serious failings in quality of care".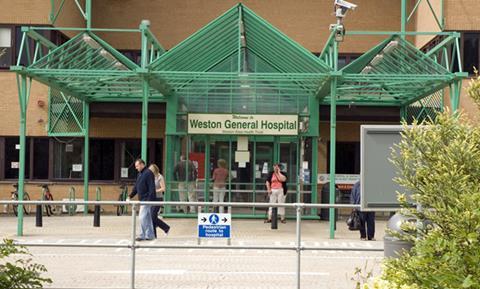 Weston Area Health Trust
Weston Area Health Trust was issued with the warning from the Care Quality Commission to make significant improvements at Weston General Hospital "without delay".
CQC inspectors found there had been improvements to the hospital's surgery and critical care services, giving it an overall rating of requires improvement, but rated the A&E department inadequate. The shortcomings were related to poor staffing and support, but the report – published today – said staff are "professional and compassionate" under immense pressure.
Professor Sir Mike Richards, the chief inspector of hospitals, said the hospital often had to keep patients in corridors that were "not a safe environment for emergency care and treatment".
Difficulties attracting senior doctors, particularly to work overnight; lack of support from other departments; and growing demand also contributed to overcrowding and patients waiting too long, he said.
Sir Mike added: "There was no sense of urgency to resolve this. The bed management meetings were not as well attended as they should be. The flow of admissions and discharges was not on everyone's agenda."
Trust chief executive James Rimmer said the trust had made the difficult decision to "temporarily" closed the emergency department between 10pm and 8am because it was unable to "provide safe staffing levels overnight".
Mr Rimmer said while improvement had been made, the department had been "fragile" for years. Trouble attracting permanent staff had left the trust heavily reliant on locums.
"That isn't sustainable for such a highly specialist clinical team and poses an intractable problem for the trust," he said.
No other services would be affected, and A&E would remain open during the day, when it sees 80 per cent of its patients.
Between 25 and 30 people normally visit Weston's A&E at night. Most of these people will be diverted to departments in Taunton and Bristol. Patients admitted to another hospital will transfer back to Weston within two to three days.
Mr Rimmer stressed the overnight closure was temporary, but the trust has not indicated when the service might reopen fully.
"This is a temporary measure. No permanent changes to A&E services or any other services in the hospital will be made without a full public consultation," he added.
Reopening the department overnight at Weston will likely to depend on recruiting permanent clinical A&E staff. HSJ reported last month that the trust spends 12 per cent of its entire income on agency staff and had 10 clinical specialist vacancies in A&E.
United Lincolnshire Hospitals Trust temporarily shut the A&E department at Grantham and District Hospital in August. Last month, the trust extended the temporary closure for at least another three months and said it would only reopen the service when it was safe to do so.
Weston has struggled with financial and clinical sustainability for years. These issues have been exacerbated by growing urgent care demand, with the trust recently rated poorly for acute bed occupancy and delays in transfers of care.
Trust board papers from last month show in the 12 months to March 2017, bed occupancy averaged 101 per cent. Bed occupancy continued to rise even after last winter, peaking at 106 per cent in March. Mr Rimmer said the service had since improved.
The trust's latest attempt to tackle these problems has been a formal partnership with University Hospitals Bristol Foundation Trust.
The exact nature of this partnership, and possible reconfiguration of the clinical services, has yet to be determined. However, the trusts already share leadership across several departments, including a joint A&E clinical lead, and clinical support from Bristol would likely increase.
Mr Rimmer said the temporary closure would give the trust "breathing space" to set up a new service in collaboration with its neighbours. While he remained committed to "24/7 urgent care service" at the hospital this was unlikely to be the "full ED" previously in place.
"Some of the [A&E] pathways will go elsewhere," he said.
The outcome will also be guided by the public consultation, being run by North Somerset Clinical Commissioning Group, on changes to Weston's clinical services including A&E.
Proposals based on that consultation are expected later this year.
Mark Smith, deputy chief executive at University Hospitals Bristol, said he expected a "small number of adults and children" to be transferred from Weston to Bristol Royal Infirmary and the Royal Hospital for Children.
He said: "I can reassure patients that the NHS has robust plans in place to respond to any immediate service changes."
A spokesman for Taunton and Somerset FT said it was supporting Weston during the closure but the impact on Musgrove Park Hospital's A&E was expected to be minimal.
Source
CQC report; HSJ interview
Source date
13-14 June 2017