South Warwickshire directors and chair to be appointed to Wye Valley Trust
Hospital chain under development, to be led by South Warwickshire.
Trusts will retain separate boards initially
No plans to consolidate clinical services
Three board members from South Warwickshire Foundation Trust are being appointed to run Wye Valley Trust in the first move towards creating a hospital chain, HSJ can reveal.
The appointments have been made at the request of NHS Improvement, which has told the trusts the chain – or "foundation group" – structure is its preferred solution.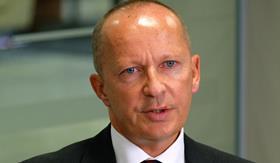 It is planned that South Warwickshire chief executive Glen Burley and chair Russell Hardy will be appointed chief executive and chair of Wye Valley. Under current proposals, Mr Burley will work one day a week at Wye Valley, while Mr Hardy will be on site one day per fortnight.
Mr Hardy's appointment was scheduled to happen this week, HSJ understands, although NHS Improvement has not yet confirmed whether this took place.
South Warwickshire's chief operating officer, Jane Ives, is set to be appointed "managing director" of Wye Valley. This would not be a formal board position, but she would act as chief executive when necessary.
HSJ understands Wye Valley's chief executive, Richard Beeken, is expected to be seconded to NHS Improvement - although he does not currently have a confirmed job to go to after he leaves the trust.
Wye Valley's previous chair, Museji Takolia, recently stepped down.
While the trusts will initially remain separate, over the longer term a new organisational structure for the chain could be created. This could include a single legal entity with separate boards for each acute hospital site.
In August, NHS Improvement accredited four foundation trusts to lead hospital chains. All four were rated either good or outstanding overall by the Care Quality Commission. South Warwickshire was rated requires improvement in the same month.
HSJ understands South Warwickshire plans to help Wye Valley cut office costs, reduce reliance on agency staff, improve patient flow and enhance links with primary care.
The foundation trust is one of few in the NHS to be both in surplus and hitting the four hour accident and emergency target.
There is no plan to consolidate services between South Warwickshire and Wye Valley. However, HSJ has learned that a variation to the price paid for some services in Herefordshire may be necessary in order to make them sustainable.
Wye Valley has been in special measures since October 2014, but is expected to leave the regime next week following its latest CQC inspection. South Warwickshire acted as its "buddy" under the special measures arrangements.
Yesterday, HSJ reported that local MP Jesse Norman, the industry and energy minister, had raised concerns over the deal, which he said had been arranged without public consultation.
NHS Improvement, South Warwickshire and Wye Valley Trust have been approached for comment.
Source
Information provided to HSJ