Aidan Kehoe has been chief executive of the Royal Liverpool and Broadgreen University Hospitals Trust since 2012, leading it to a good rating from the Care Quality Commission in 2016. The trust is undergoing major changes, including a planned merger with Aintree University Hospitals Foundation Trust and crucial transformation projects enabled by its status as a global digital exemplar.  Mr Kehoe is from Liverpool and trained as an accountant before going into NHS management. He was previously CEO at Blackpool Teaching Hospitals Foundation Trust for three years.
This interview is part of a series being published exclusively for HSJ Membership subscribers. It covers:
The impact of Carillion's demise; the case for merger; the workforce crisis; integrated care; and Liverpool's potential as a leading research centre.
Key points: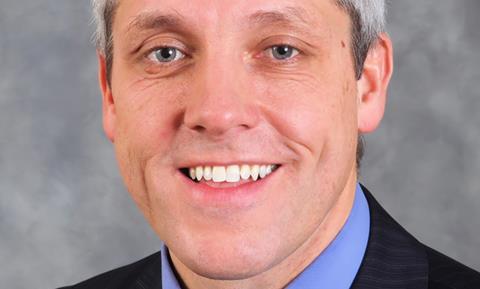 Carillion: I'm angry… they must have known things were going wrong earlier
A much-anticipated move by the trust to a new city centre hospital has been frustrated by repeated delays, including the demise of Carillion, the main contractor.
A 'countdown clock' in the main entrance to the trust has been removed following various delays to the new Royal Liverpool Hospital, which stands partially built on land next to the current 40-year-old hospital. Building work halted in January following Carillion's liquidation.
"It's obviously frustrating that we've not been able to move into the new Royal, which should have been ready in April 2017. That's a big thing for us and I'm hoping that we can get a deal done and get building work up and running again.
"At the moment our staff are trying to deliver healthcare in a building that's falling apart.
"We're getting things like pipes bursting - seven of our ten theatres out last week because of burst pipes and obviously there were cancellations as a result. We also had to shut off the heating completely one day in January because piping had to be replaced.
"We're delivering what I'd say is really good quality care in an environment that just isn't suitable for what we're trying to do."
"All our staff are so excited about getting in the new hospital. It's a tremendous facility and really will be one of the best in the world. Some of the areas are pretty much finished, like the critical care unit. With all the equipment in there it's like something out of a science fiction film."
Are there lessons the NHS can learn from this?
"It's very hard to say because you couldn't really have predicted Carillion's demise. It was the second biggest building company in the country with contracts all over the world.
"But we'll need to reflect about what this tells us about these projects and how we assess risk as we go along.
"Personally, I'm angry at the way the Carillion board would seem to have managed this. They must have known things were going wrong earlier. I don't know the ins and outs of it but am very disappointed about what happened."
Negotiations are still ongoing between the trust, the PFI company, investors and the Treasury about getting building work restarted with a new contractor. The latest update is here.
Aintree merger: It's genuinely being driven by clinicians and will deliver significant savings
"I think what we have which I don't think is totally unique, but fairly unique, is that this whole thing has been clinically driven. It's clinicians coming together to say they can deliver better outcomes for patients as well as financial improvements. It's not about somebody taking over a failing organisation or us saying one organisation is so financially in dire straits they need to be taken over.
"With other mergers it hasn't necessarily been the clinical push and that's caused them issues for years following a merger. I think what we'll see is because clinicians own it, we'll be able to deliver transformation more quickly.
"There's so much duplication of services in the city and examples of care being really fragmented, where for instance there's liver surgery happening at Aintree and pancreatic surgery at the Royal. It means there's currently no chance of a liver transplant service in the city.
"People say 'couldn't you do this by just collaborating and why do you need a merger', but we took the view that when your starting to think about almost every service line – 38 or 39 service lines - it just doesn't make sense to have two trusts and you can do it at a much quicker pace under one organisation.
Lots of mergers and reconfigurations have not delivered the level of savings expected; but McKinsey said there was a potential deliver up to 14 per cent in Liverpool. Is that really achievable?
"I think it's absolutely realistic to deliver significant savings from this. Every situation is different but you've got to remember we are talking about organisations about four miles apart and duplicating many things.
"You've got to look at the specifics. We know there's a lot of duplication and we can take that out, and we know we can use the workforce more flexibly and get productivity savings.
"There's a lot of examples of that in terms of rotas and how we'd use our staff and cover gaps. We can do a lot more around the procurement agenda, and the big one down the line will be the estate. I'm confident the savings are quite significant."
The trusts are currently aiming to complete the merger by July 2019.
Workforce: The current crisis could carry on for 40 years – so we need to harness digital technology
"Apart from the obvious operational issues I think NHS organisations would probably say the biggest challenge is workforce, and I don't think the answer is to carry on doing the same things the way we are doing them now.
"I read somewhere that across the world provision of healthcare professionals is going to be an issue for many years because you've got growing economies like China which is going to be short of gynaecologists and things like this. I think this workforce crisis is going to carry on for 20, 30 or 40 years."
"So, the question is how do you plug that. You can do something about demand and patients self-managing, but what'll enable that is technology and things like digital monitoring. Yes, we've got to drive on workforce productivity but the thing that will help us do that are about how you use technology."
"We've got a situation where for instance in our organisation over the last six years, we've seen a 21 per cent increase in admissions in people aged over 75, and many of those patients have co-morbidities."
"Demand is going to increase significantly. I don't think we can just say we are going to recruit more people and that'll deal with it. Our radiologists and histopathologists are working their socks off to deliver tests, but with the development of artificial intelligence you start to say 'well, in the future will those roles be needed in the traditional way?'.
"Digital technology is really going to transform things. We were looking yesterday at tools which could potentially enable A&E clinicians to see 25 patients in an hour instead of 9 patients, using video consultations.
"You can have a clinician sat looking at a number of screens in walk in centres and A&E departments, and they can get through so much more work."
But is it possible to enable these developments with the current operational pressures?
"I think the trick or one of the key things in my job is trying to get that balance between people having to deal with the here and now, and continuing with the innovation and continuous improvement that'll help us be in a much better position in 5, 10, 15 years' time.
"I would always be impatient about pace but this is where I think the global digital exemplar programme is excellent. Overall, we'll get about £10m over three years and this isn't something fluffy, it's about hard outcomes.
"In the first four months we're seeing some really significant results on sepsis, from using an e-sepsis module to make sure that everyone's having a sepsis assessment and getting treatment in the first hour. It electronically tracks what patients have had their assessment and will remind us where to prescribe.
"It's tough to say but we're looking at about 50 patients who might have died haven't died. I wouldn't want to claim it's totally due to e-sepsis at this stage but it's a key component of that.
"And there's no doubt the GDE has helped speed this stuff up.
"This links in with our electronic white boards and we're 100 per cent on electronic notes now. Then within the collaboration (with Aintree and Liverpool Women's Hospital) we are procuring a joint electronic patient record (from InterSystems) and just waiting for the full business case to be approved by NHSI. That will put all our electronic notes into one system, instead of people having to input into different systems."
Integrated care: We've been hindered but can now move forwards
Liverpool's troubled community services have now been taken over by Mersey Care Foundation Trust, after an interim period in which they were jointly managed by the city's acute trusts.
"We've had some difficult years with the community trust which has hindered our efforts to integrate with community care.
"Traditionally we would have taken the view that vertical integration was a good model but in reality it comes down to good relationships and governance structures.
"I'm not going to get too hung up about who the lead organisation is for this or that. We're going to have to work together whatever happens.
"Now that they're in with Mersey Care the important thing is we are working with them to develop new models and pathways and so on. I'm quite confident we've got a group of people now who are determined to make this work.
"There's obviously been some ups and downs over the last couple of years, but I think the platform is now there to build on."
What does this mean for a future integrated care organisation in Liverpool?
"I think we've got to discuss what that looks like. We're having some of those discussions in the provider alliance and a group reporting into the health and wellbeing board.
"I think the platform is there, but what the model eventually looks like I don't know but I'm confident we'll get there."
Research: We want to compete with the golden triangle
"Liverpool has got a huge opportunity now, with the new Royal and Biocampus which is planned to be completed by 2020, the Clatterbridge relocating to the site, and the Royal College of Physicians moving to the city as well.
"All these things will help our long-term plans to expand our role in clinical research, but also the wider plans for the economic regeneration of Liverpool as an international centre for the life sciences industry.
"We think this can help us compete with established international research centres like the golden triangle in the south of England, as well as places like Boston and Singapore.
"We were obviously disappointed that a £15m bid for a biomedical research centre didn't get through (last year), but I think we've learnt from that and we're all more determined to get it next time."