Glen Burley has been chief executive of South Warwickshire Foundation Trust since 2008, and Wye Valley Trust since early 2017, creating a "foundation group" out of the two trusts. In March 2018, South Warwickshire FT's Care Quality Commission rating jumped to good and the small hospital and community trust has a recent history of surpluses, despite the financial stress seen throughout the NHS. Wye Valley left special measures just before Mr Burley's arrival, but the trust still struggles with its financial and A&E performance. The former accountant is an advocate of using the foundation trust as a vehicle to build an integrated care system.
This interview is part of a series being published exclusively for HSJ Membership subscribers. It covers:
Encouraging system leadership, developing integrated care, fixing a broken payment system, partnering with primary care, and the CQC inspection regime.
Key points: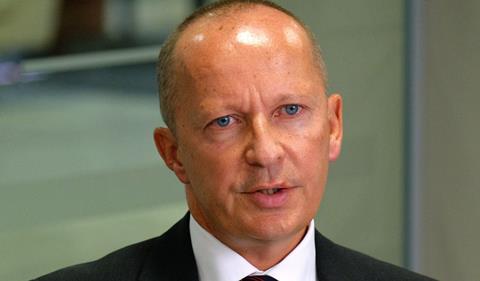 Integration: The STP model hasn't worked – build care around foundation trusts
"Transactional commissioning needs to change to be more strategic commissioning.
"There are too many clever people spending time arguing whether it's a provider side problem or a commissioner side problem. We need to focus that talent at looking forward and creating pathways.
"That doesn't mean we don't need commissioning, because we do.
"Someone needs that market oversight needs to be clear about the outcomes, clear about manoeuvring resource but not checking the resources, doing the data, looking at the contracting rules.
"We've kicked off a new contract form here for out of hospital services, with South Warwickshire as the lead provider of a block contract.
"That's a building block. There's no reason why you can't add in urgent care – at South Warwickshire we are already providing the urgent care. So, moving that towards a block contract with outcome measures, suddenly you've created an integrated care organisation.
"The FT model provides good governance for this.
"The resource question does need to go through some sort of democratic challenge. Having a board that is held to account by a council of governors that have to be majority members of the public, that's quite a strong model.
"Take STPs as a counter example. The idea that everyone can get a room and everyone is looking out for everyone else, it hasn't worked. There is a danger that you move from accountability, to no accountability.
"We are keen to show that being the lead provider doesn't mean you are the only provider. It's about being the glue in the system.
"The trust and confidence between partners is really important.
"We need to develop that relationship. You can't just say 'here is a contract' – it's just not going to work."
How to partner with GPs without frightening the horses
"The relationship with primary care is an important one. In order for them to trust us we need to demonstrate we are going to invest in out of hospital capacity, to take demand out of acute and get into a gain share with them.
"Far too often those discussions go straight to the GP contract. I think that will frighten the horses. We need look at gain share opportunities with existing contract forms. There are quite a lot of resources that are paid discretionarily to primary care. We can use those levers.
"I certainly wouldn't want to challenge [GP practices'] businesses in their current business modes.
"It's more: what can we do, as the big provider locally, to wrap around some services that will make primary care easier to deliver?
"That might be about providing back office functions, about training staff, about dealing with some of the recruitment challenges. It's about helping them to run primary care but still staying in control."
The CQC regime should move away from a rating to a licensing system
"This is the best healthcare system in the world but most of the providers are [rated] requires improvement. That doesn't seem right to me.
"If you look at primary care, generally there are more good and outstanding ratings.
"There are clearly a number of outstanding acute providers, and that should be recognised, rather than just the safety valve of 'let's put them all in requires improvement'.
"We need to look more at the relative risk of hospitals rather than the inherent risk of hospitals.
"When an organisation is given the inadequate label it is hard to improve from that because there is a danger that it gets worse as a consequence of that.
"One of things you notice about inadequate organisations, and Wye Valley is the perfect example, having gone through that it makes it incredibly hard to recruit staff.
"We need to be able to move those organisations to a better place quite quickly, not over years.
"The regulation regime should be more of a licence to operate. Should this organisation function in their particular sector? Yes or no.
"If you're inadequate, clearly you need to deal with that. But the ability to differentiate above that line through an inspection regime, unless you spend a lot more money, is going to be hit and miss.
"We should focus more on staff surveys, patient surveys, and outcome data."
Good provider leaders should be required to buddy with struggling trusts
"To get your autonomy as chief executive you should be involved in sharing, assisting, buddying, whatever it might be.
"I've had the conversation with NHS Improvement before that they should make that link. If you want that autonomy that should be the deal. The bandwidth of NHSI is limited, so quite rightly we should look to other providers to provide this support.
"It's been nice to help Wye Valley to have a bit of autonomy itself. There's some good people there that know what to do. They just need some time and cover to get on with it.
"Coming into Wye Valley also enabled me to maintain a really good team across both trusts, because we've broadened our scope a little bit.
"I've managed to retain some really talented people and it's been a great opportunity for other people to develop.
"We've got a leadership deficit in the NHS.
"We are not blessed with a huge number of people coming in and doing this sort of job, so we do need to make these roles more attractive.
"I came in and learned to be an accountant in the NHS, other people come through HR, IT, as well as all the clinical specialities.
"There are huge career opportunities in the NHS. There is also the sense of doing something that is really worthwhile as well.
"The public sees people say it's really tough, but it's also incredibly rewarding. We have to talk the NHS up more."
How the payment model for providers has lost its way
"Being chief executive of both South Warwickshire and Wye Valley has really shown me the difference between the way the original financial model for the NHS was set up, compared to how it works today.
"I think we've really lost our way on that model.
"Excluding STF money, across the West Midlands there are 14 providers with acute services and of those 14, South Warwickshire is the only one that is in surplus.
"There are some incredibly talented teams in some of those trusts. So, one has to ask why is it we have a situation where the vast majority of providers are in deficit?
"It's because we've moved from a situation where tariffs were based on costs to them becoming an economic tool, and you could argue a political tool, to achieve certain results.
"Funding has been shrunk over the years, but we've also got some strange financial anomalies that have emerged. Elective care is generally paid for on a payment by results, full price basis, whereas with urgent care we started introducing marginal rates, tariffs and block contracts.
"The elective work is what the NHS is more likely to lose to the independent sector under times of pressure, while the increased urgent care is paid at the margins. So you've lost full cost elective work and you're getting marginal rates for emergency work. That doesn't make sense.
"You can't have one part of your capacity reimbursed in one way and the rest another, particularly when the beds flex between the two. So over time that has created this situation where the majority of providers are in deficit.
"And if you create a situation where organisations don't have the resources to function then they have to keep going to the regulator.
"At Wye Valley, I'm regularly going for working capital facilities to have enough money to pay the wages. For capital development, we have to make an application into the centre, which adds time, it adds delays, it adds bureaucracy.
"At South Warwickshire, we are creating a surplus and we can reinvest in capital. Consequently we can be much more responsive.
"The whole concept of being in deficit and that being an acceptable situation for providers creates a danger that you lose grip on managing your resources. You often see this: a provider goes into deficit and then suddenly it moves to a very big deficit.
"I am all for moving towards capitation based models, more towards the accountable care model. It takes away from this silly transactional behaviour.
"I also worry that that we've put the money to one side and focused on quality, which is quite right but we are spending public money.
"Quality is the absolutely the right focus but there's something around quality, around getting it right first time, that ensures that you deliver on the resources as well.
"You can spend a lot of money to chase down quality."