Lesley Dwyer is chief executive of Medway Foundation Trust. It is her first NHS job, after over 30 years working in the Australian health service, both in government roles and running large provider organisations. She has led Medway since 2015. One of the original "Keogh trusts" placed in special measures in 2013 due to high mortality rates, Medway finally left the regime in 2017. Although quality and safety have improved, the trust has acute and ongoing financial problems, with one of the highest Department of Health debt to turnover ratios in the NHS.
This interview is part of a series being published exclusively for HSJ Membership subscribers. It covers:
Relationships with regulators, building leadership, unsustainable finances and managing risk.
Key points:
Relationships with regulators: After three months in the job, I was told how disappointed they were with me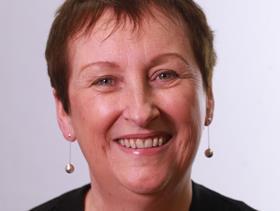 Medway had been in special measures for two years when Ms Dwyer was appointed, and would remain in the regime for another two after she took over. However, she reveals regulators were impatient to see improvements almost instantly.
"When I started here… I had to go and meet somebody in one of the regulatory teams, who basically vetted me. I told that person, 'What I'm going to find hardest about coming here is you, because I don't trust you to hold your nerve.'
"Because things don't happen in a linear way, things take time.
"I had only been here just three months when we had our first CQC inspection, which clearly said the organisation… had gone backwards.
"I can remember being told how disappointing that was. How disappointed they were with me. And I said, 'for goodness sake, I've been here three months. What on earth were you looking at, over the last two and a half years, that gave you confidence that that you could keep the doors open?'
"Those relationships can be quite tense… but I would be the first to say that those relationships and the way people in those regulatory bodies stepped forward was one of the reasons we were able to improve."
Building leadership: National leaders didn't support me in getting the right top team
Both Monitor and the Care Quality Commission placed a high premium on continuity of leadership – at odds with Ms Dwyer's wish to make fresh appointments.
"I don't have a member of the executive that was here when I started. We've moved all of the executive on.
"If I had my time again I would have moved on that much faster.
"I didn't doubt my own judgement that that was the right thing to do, [but] I didn't have a lot of support for that.
"[The CQC] set a high value on the stability of leadership… When I said I wanted to make changes, there was, 'oh my God, this woman from another country is coming… work with what you've got.' It was a mistake. People come at different points of an organisation and we needed people that were actually able to create that bridge… to inspire and to bring people with them.
"And I wish I had done something about that much earlier.
"You have to trust your gut.
"I was really surprised with the messaging I got from the system about stability being really mission critical."
Relationships with regulators: Life outside special measures is more pressurised and chaotic than inside
Ms Dwyer says since leaving special measures, regulatory interventions have not reduced in number, but have become less predictable than before.
"There's just as much coming at us, but the environment is less ordered. Before, everybody was facing the trust, saying, 'we're going to help you improve, we're going to be there when you need us.'"
Some of this may be due to the merger of Monitor and the NHS Trust Development Authority, and the adoption by their successor NHS Improvement of a more "hands on" TDA-style approach.
"In many ways I feel more pressured now than I ever have… Around requests for meetings and the level of information that they wanted, the operational detail.
"We've had to almost redefine those relationships, so we provide the assurance that is required but I also feel that I can actually be a chief executive and operate at that [high] level.
"One thing you don't want is to have your chief executives turn into chief operating officers. It's not their job.
"I don't think it's an intentional push, it's something that if you're not careful… you can inadvertently slip into that."
Unsustainable finances: What should happen when providers become unsustainable
Medway has one of the largest DH debt to turnover ratios in the NHS – and Ms Dwyer says "we do not believe we're at a size that we can trade our way out of deficit". This drives the trust to seek to operate jointly with other providers.
"It's not about somebody else helping us pay off that debt – it's about how we create a trust that is able to at a point in time live within its means - and not have to provide the whole gamut of services that we currently do in the way that we do them.
"The only time I've seen a [financially strained] system that has sustained living within its means was when there was an element of rebasing that system."
That means reducing debts to a level that providers are able to pay off, and budgets organisations can operate within.
In Victoria in Australia around 15 years ago, Ms Dwyer was working in government. The tariff was sending providers broke because it had been held down for a long time. Eventually, it was increased and some debts were written off. After that, providers were expected to live within their means.
"Not everything [was written off] - that sends a really perverse message, which is that we can operate inefficiently and someone will always bail us out.
"I don't want a bailout. I would like to have a financial package at a system level that allows us to start to reduce that amount of debt that we have as a system, in Kent and Medway.
"Because I do not want to be in the position that we have managed to, to a degree, be able to reinstate the confidence of our community in us, and then go on a slash and burn exercise."
Developing the workforce: I've got to have some money to spend on external support.
"One of the things that – they can find a different chief executive than me – that I won't see happen is we won't stifle innovation. I've got to have some money to continue to innovate and motivate people.
"Jeremy Hunt says it's never about the staff – the staff you have when you go into special measures are the staff that you have when you come out.
"If you have not invested in those staff, it's probably not unexpected that you may not have the capability to sustain if you haven't invested in it.
"There's got to be the Medway way of doing improvement - and we have to train people in doing that. If we had those skills in this organisation it would never have been in special measures. So we have had to bring people in to do that.
"I don't want to always only have the capability internally – because how do you keep refreshing that?
"I will always want to have some external [people] checking and challenging, so I will always want to have some money to do that."
Managing risk: Unconfident organisations become paralysed by the fear of making mistakes
"When I see organisations that have got that many policies that you're tying yourself up in knots, all I see is that you're actually asking [people] not to use their own judgement.
"All organisations have policies. We have policies. We don't want you to say 'the WHO list for surgery is mandated, but today we're not going to use it'.
"What I am saying is, don't make it so difficult for your staff to say, 'I don't think that adds any value, let's try doing this quite differently'.
"When we started out our risk appetite for safety was almost nothing – because we were an unsafe organisation in many ways."
This resulted in clinicians not feeling confident, for example, to divert low-risk patients away from the emergency department, or to not test for extremely unlikely conditions.
On one walk round the hospital, Ms Dwyer, said, she saw a junior doctor talking about some tests that they were going to have carried out on an emergency patient.
"I was saying, that person has been there some time, and has had several test and world be likely to be discharged. Why are you doing that. They said it could be meningitis. And I said, after so many hours you decide you want to have a test on that? There are so many clinical signs for that – I do have a clinical background."
But when challenged, doctors reply, "it's not worth my registration" to not test.
"That's a fair comment, but I said, I'd have been more concerned that your risk aversion is more of a risk to your registration.
"That's the sort of stuff that I see a lot of, which is, [a condition] which happens so rarely, but in fact we're going to make sure we check for that."
Ms Dwyer says she sees more queries for some extremely rare conditions at Medway than she had previously over her entire career – meaning patient flow is being held up by additional testing.
"I say, how many of these have you ever seen? And they say it's because we were a failed trust that we have to be more cautious.
"It's that almost that the glass is half empty, but in fact mainly it seems to me you haven't given me a glass, because [you believe] everything could go wrong – but in reality seldom does."