Richard Beeken became chief executive of Walsall Healthcare Trust on 1 March 2018, and has the task of taking organisation, which remains in quality special measures from "requires improvement" to "good". He has also been given responsibility for networking acute services across Black Country and West Birmingham sustainability and transformation partnership. His first chief executive role was for Wye Valley Trust, which he led out of special measures, from 2014 to 2016.
He has also held senior roles at NHS Improvement and University Hospitals of North Midlands Trust. Despite having a career peppered with executive roles in troubled providers, Mr Beeken does not see himself as a turnaround director.
This interview is part of a series being published exclusively for HSJ Membership subscribers. It covers:
Regulatory support, being in special measures, effective commissioning, driving improvement
Key points: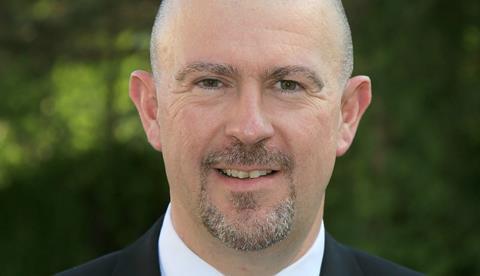 Driving improvement: Why the 'middle management blancmange' must be broken down

Mr Beeken says many troubled provider trusts have a "normalisation of the unacceptable"
"Walsall is an organisation where, at times, colleagues feel they are not allowed to do stuff and they have to ask permission to do stuff to make changes.
"It's an organisation where that middle management blancmange, which is there in every organisation, seems to loom large. The part which says 'no, [but] what's the question', and, 'no the finance team says you can't do that.'"
So to change an organisation for the better you need to get all clinical staff involved in the running of the organisation - how do you break down the middle management blancmange?
"If you involve them [middle management] more in how decisions are made, my experience is they will communicate more effectively to and with their teams.
"Every organisation I've worked in that works well involves their senior medics, senior nurses and senior managers. It is the forum which is the decision-making vehicle of the trust under the executive board…
"You have to have more regular adult, professional conversations with those [senior] clinical teams and then you find the middle management blancmange better understands the decisions that are made because they're helping to make those decisions."
It sounds like a culture issue. Do you see any similar culture problems within Walsall compared to previous the troubled trusts you've worked at?
"I don't like the word culture because it's used as a dreadful catch all…I think what do you mean by culture? So, I try not to use the word.
"I would say there is something similar in organisations that have had difficulties, this organisation is no exception.
"There is a normalisation of the unacceptable, there is a loss of moral outrage at things that should really prick us into action and there is a partial lack of compliance with the fundamentals that keep patients safe. And all three of those things need tackling here."
Effective commissioning: Commissioners spend too much effort trying to trip up providers

"Who would've thought years down the line we would've all been looking back misty eyed through rose tinted spectacles at strategic health authorities and thinking, 'can we have them back again?'
"But everybody is privately thinking that, because strategic authorities used to attempt to, and quite often did, manage both sides of the system.
Now we have a split between commissioning and provision and, "if we insist on keeping that, there needs to be one regulator that regulates the worst excesses of both sides", Mr Beeken said.
What is wrong with the current state of commissioning?
"What's happening at the moment is commissioners are not commissioning anymore - they're contracting, and they're managing their bottom lines on behalf of their regulator and that's not commissioning.
"That's not designing new pathways to deliver better patient and efficiencies for a health economy. It is putting almost all of your managerial time and expertise into, 'how can we trip the trusts up contractually to ensure our financial expectations are met?'
"That's not commissioning, so let's just stop pretending we're commissioning and let's do it a different way."
Is there a lack of leaders in commissioning sector who can push back on central demands?
"No. It is not about the individuals at all. You get the outcomes and output you deserve from the architecture you create.
"If you create an architecture where one half is set against the other you're going to get perverse incentives and at times unfortunate behaviour, which do not reflect well on people who are all coming into work to do the right job."
Regulation: NHS Improvement's teams have lacked capacity to support struggling trusts
As a former delivery and improvement director for NHS Improvement, Mr Beeken has a better perspective than many on the efforts of the regional teams overseeing a trust's performance.
"In the main, NHS Improvement have a team that understand how trusts work. Most of them have a degree of experience in that environment, so they've got some credibility. They talk your language and they help you navigate some of the more ill-defined and opaque regulatory expectations…
"The NHS Improvement staff want to put much more time and resource into improvement and supporting organisations, but the regional teams don't have the bandwidth to do it.
"You've got the right kind of people at NHS Improvement, with the right kind of intentions, there just aren't enough of them."
But NHS England staff in the Midlands and East "outweigh" NHSI, Mr Beeken argues.
"You've got all of the [regulation] bandwidth and individual horse power, vested in the regulator who doesn't actually manage the provision of care.
"Then you've got these over worked well intentioned people at NHS Improvement peddling like Billy-o and barely able to scratch the surface."
In November 2016, NHS Improvement parachuted Mr Beeken into Worcestershire Acute Hospitals Trust. The trust at the centre of a series of high-profile A&E scandals and was referred to by the health secretary as the hospital he was "most worried about". Mr Beeken says he was sent in to "manage the shark closest to the boat".
"What I did at Worcestershire was extremely unusual, it was far beyond anything that would usually be put in place by NHS Improvement, which was an indication of the trouble Worcester was in."
How did you get the executive team at Worcestershire to listen to you?
"I used the natural assumed authority that the NHS Improvement badge has to a trust in crisis. I was the NHS Improvement man in on the ground. Staff thought, 'he's the West Midlands director, but he's with us four days a week that must mean we're in trouble [and] we've got to sort ourselves out.'"
Special measures: Struggling trusts are better off with the special measures badge

Do you think trusts are better off with quality "special measures" label?
"Without a doubt it is better to have the special measures label."
NHS Improvement's oversight framework can be "a little robotic" in that if you don't have the special measures label you don't get help, Mr Beeken said.
"You need the quality special measures label to get that support from improvement directors – if you're not in special measures you don't get it."
After Worcestershire, Mr Beeken took on a substantive role as chief operating officer for University Hospitals of North Midlands, which was already in financial special measures when he joined.
"UHNM was in financial special measures, so the Monitor arm of NHS Improvement were crawling all over the trust, but the root causes of the financial problems there were down to infrastructure, flow, processes and quality. The trust wasn't in quality special measures so didn't get any of that support."
Mr Beeken's first chief executive role was for Wye Valley Trust in Hereford from June 2014 to November 2016. He joined at the same time as the trust went into special measures and during his two years was brought up from "inadequate" to "requires improvement".
"Would we have gotten out of special measures if we didn't have the label? Without the sometimes-suffocating oversight and assurance, but more importantly the additional money and additional help and the addition advice – I would say almost certainly not."