Ros Tolcher leads Harrogate and District Foundation Trust – a small trust with a good rating from the Care Quality Commission, and one of the NHS's top accident and emergency performers. The former reproductive health consultant and sexual health services director is a passionate believer that smaller district general hospitals can be sustainable – despite an increasing amount of consolidation across the country.
This interview is part of a series being published exclusively for HSJ Membership subscribers. It covers:

Developing new models of care, relationships with national leaders, updating the DGH model, and building a sustainable workforce.
Key points: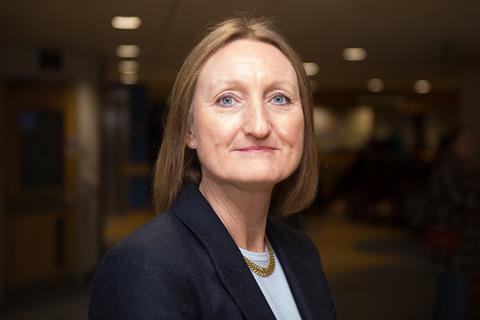 New models of care: Know when to pull the plug and start again
The trust and partners pulled the plug on their new care model experiment last summer (they were selected as a vanguard site in 2015 to integrate primary, acute and social care) because it was failing to deliver the targeted reduction in emergency admissions.
"It proved to be an awful lot more difficult than any of us ever envisaged, partly because of financial constraints and partly because of the complexity of trying to bring about an integration of services when each of the parties had differing footprints and a different ability to allow local sensitivity in how they did their work.
"We took a brave decision [to start again]. It was a really difficult period for the partnership. It's not unusual for people to blindly carry on in [situations like these].
"One of the learning points in this, and a point we need to keep re-learning because it comes up every time, is that the most fundamental elements of change are: a common vision; trust; clarity about where you are trying to get to; and clarity about where you have started.
"The six partners were thrust together without a history of collaborative working, or a baseline dataset, so it was really difficult to track progress. We often had to work on the basis of hope and [poor quality] data invented for a different purpose."
Plan B involved just three GP practices and a 45,000 population rather than 17 GPs as in the original model.
"Ironically, the things which have really made a difference in the end were all part of the original plan but eluded us at the start. The simple act of co-locating frontline staff at locality level made a huge difference. Getting GPs involved in daily huddles and getting some of the IT sorted out also helped.
"My advice would be to start small and work out the practicalities up front so that logistical barriers do not become red lines. Complete openness and transparency on organisational objectives is essential too.
"NHS England's new models of care team was supportive and encouraging when we told them we wanted to enact plan B."
Relationships with national bodies: conflicting orders from NHSE and NHSI are making integration harder
"There is a strong feeling in the provider sector that NHS England and NHS Improvement are not fully aligned… We are all part of the same service nationally [that is] facing the biggest crisis ever. I really would like to see all parties being part of the solution and not the problem.
"The people in these organisations want the same as the rest of us [a safe, sustainable NHS]. But it does sometimes feel like different parts of the system are looking after their own particular objectives rather than [doing what is best for the wider system].
"I am confident that [they] are working hard to be as aligned as they can be under very difficult circumstances, so this is in no way a criticism of individuals. But there are some really difficult conversations where NHS England is insisting commissioners hold the line on, for example, the technical interpretation of guidance. Then NHS Improvement is equally confident with providers that we protect our business.
"We had a flurry of letters around winter planning in November, which ask providers to give positive assurance that there would be beds and staffing available for surges like flu.
"Some of the communications [at the start of winter] asking us to give assurances on things like the level of staffing that we have to get through winter in any eventuality are asking for reassurances that can never be terribly reassuring."
Sustainable services: DGHs are absolutely viable and can deliver efficient, high quality care – if we adapt
Dr Tolcher argues DGHs the size of Harrogate, which turns over less than £200m a year from acute services, can deliver high quality care as efficiently as larger teaching hospitals but they need to evolve.
"Are smaller district general hospitals viable? Absolutely. Harrogate and other trusts our size are living proof of that. Even in the most challenging of financial eras [DGHs] can sustain high quality care and our value proposition for public funding.
"Harrogate is a sweet size. We're big enough to [cover the costs] of running a safe hospital, but small enough for everybody to know everybody – and that's a really important part of our values and culture.
"The majority of acute care nationally is delivered by DGHs rather than teaching hospitals. The secret [for DGHs] is to evolve and adapt continuously.
"We took a purposeful decision to grow our portfolio. We already provided a range of community services, but we decided to expand and we have been very successful in securing new tenders of community children's services. We are actually the biggest provider of children's community services nationally."
A viable DGH model will require significant horizontal and vertical integration, and new payment mechanisms to reward partners for integrating.
"This is what we are pursuing in [west Yorkshire and Harrogate]. As a DGH we will continue to provide the full range of local services but in a more integrated way.
"For example, I want to reconnect primary and secondary care clinicians, generalists and specialists, so that primary care teams can have timely access to clinical advice from specialists without having to send patients to hospital.
"This is better for patients and should cost the 'system' less, but it requires a new type of reward mechanism. The DGHs which will thrive will be those which play a full role in meeting local needs while embracing the opportunities of clinical networks for tertiary services."
Another example of the trust's integration work is its "every hour matters" initiative, which was a cornerstone of its winter strategy. The trust set up an onsite hub room, open for around a week over the busiest times staffed with colleagues from primary care, commissioners and local authorities, to try and increase discharges, especially before midday, and optimise bed occupancy.
All non-essential meetings were postponed so staff could focus on hospital flow during the targeted weeks. The trust has not crunched all the data yet, but Dr Toclcher said the early numbers were encouraging.
"For the [first week of January] we delivered 90.62 per cent performance [against the four hour target], the fifth best of the 44 reporting organisations in the North for that week.
"[This was despite] emergency department attendances in December and January being almost 6 per cent higher than the same period last year, and ED admissions up almost 16 per cent."
Building the workforce: The NHS needs new credible workforce models
"Maintaining a sustainable workforce is the biggest risk facing every NHS provider in the country. So, developing a 10 year workforce strategy for the whole service is a really, really positive move.
"When we look at the old style workforce models we very quickly see that it's not sustainable to try and carry on trying to field the same workforce we always used to. That's partly because of problems filling junior doctor rotations and partly because of the national workforce challenges around registered nurses in particular.
"Rather than sitting back, living with gaps and paying a very heavy price in quality and financial terms in using bank and agency, like many other trusts we are looking at innovative workforce solutions to create opportunities for different staff groups to fill the void."
She cited the trust's use of advanced clinical practitioners, the new role being developed for experienced clinicians from a range of backgrounds including nursing, typically at band seven or eight, who have trained further and can take on a more senior position.
The role is seen as a good way of developing the workforce and using experienced clinicians to fill gaps created by a national junior doctor shortage. The first Harrogate ACP cohort of 10 started two years ago in the trust's emergency department, and other areas including on care of the elderly wards.
The trust is also a national pilot site for the Global Health Exchange, which recruits experienced registered nurses on the "earn, learn and return" principle from India and other countries.
"[The international recruits] have excellent skills and make a valuable contribution but my personal preference is to continue to rely on local recruitment of local people, so we use international recruitment as a top up and to some extent a stopgap."
The trust is working with three local higher education institutions to develop dedicated training programmes.
"The principle is that their clinical training is [done at the trust] and we guarantee students a job in this organisation at the end of their training.
"We see that as a way of securing the supply of appropriately trained colleagues to work in the organisation. There will always be a turnover of registered nurses but the aim is to proactively fill the gaps and to keep people a little bit longer before they move on for career development."