Nick Hulme spoke at HSJ webinar on winter pressures
The chief executive who oversaw a dramatic improvement in Colchester General Hospital's performance against the four hour standard recently spoke at an HSJ webinar on winter pressures.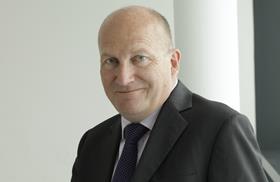 Nick Hulme, chief at East Suffolk and North Essex Foundation Trust – the newly merged trust which runs Colchester General – was on the panel for the free event on Tuesday, 6 November 2018. He spoke of how the hospital moved from meeting the four hour target in only 80.7 per cent of cases in July 2017 to 98 per cent a year later.
Mr Hulme was joined on the panel by Sarah Scobie, deputy director of research at the Nuffield Trust, and Paul Ridout, partner at the specialist health and social care law firm Ridouts Solicitors. In a discussion chaired by HSJ senior correspondent James Illman, they explored the issue of overstretched accident and emergency departments and how the NHS can better weather winter.
The webinar, which was run is association with Ridouts Solicitors, is now available on demand for free.