Imperial College Healthcare Trust has 301 patients waiting more than a year for treatment
Over six months, trusts in England treated 5,957 patients who waited more than a year
London responsible for nearly half of late treatment
A large teaching hospital has ordered its second review of waiting lists in a year after another cohort of patients were found to be missing from records.
Imperial College Healthcare Trust in London told HSJ it was "undertaking another full data clean up to identify all patients who have been incorrectly tracked and provide their treatment as quickly as possible".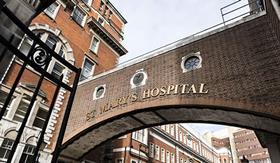 The £1bn turnover trust said it hoped to find out how many patients had been missed out of official figures by the end of this month.
In April, the trust audited its waiting list for elective procedures and found significant numbers of patients who had waited more than a year.
The latest data, released this month, showed that as of August 2017, 301 Imperial patients were waiting to be seen and had waited more than 52 weeks.
In the six months to the end of August, the trust treated 859 patients who had waited more than a year.
The national total over the same period was 5,957. Five trusts were responsible for more than half this total:
Imperial College Healthcare Trust;
Barking, Havering and Redbridge University Hospitals Trust;
Kettering General Hospital Foundation Trust;
University Hospitals Bristol FT; and
King's College Hospital FT.
London trusts were responsible for 2,539 of the national total, the Midlands and East accounted for 1,539 and the South had 1,495 patients waiting more than year, with the remaining 384 in the North.
Imperial would not reveal which independent sector providers it had contracted work out to or how much it had spent to address the backlog.
A trust spokeswoman said: "We are extremely sorry for these very significant delays to treating patients, and especially that we have seen similar waiting list management errors we identified in 2016.
"Our latest actions do mean that even if errors are made again, they will be picked up immediately. Our next goal is to engage all of our key staff in building the processes, ways of working and training that mean we get our waiting list tracking right first time with a long term, sustainable approach."
The trust said since the problems were identified last year it had taken steps including:
daily reporting to check data is correct;
setting up a waiting list improvement team;
increasing in-house theatre lists and commissioned independent sector capacity; and
commissioned "the design and implementation of an elective care operating framework, which focuses on people, systems and processes along with a data quality framework which in turn aids visibility of patient pathways. We are also developing a pathway planning and tracking system to support the management of patients receiving elective care at Imperial."
Source
NHS England data; Imperial statement
Major teaching trust orders second 'hidden waiters' review
1

Currently reading

Major teaching trust orders second 'hidden waiters' review

2