The NHS Innovation Challenge Prize ceremony, held in Manchester last month, featured five Acorn challenge winners. Here we find out how each winning entry impacted on patient care
The Acorn challenge focuses on small ideas that make a big difference to patient care, with each award winning entry receiving £10,000.
The following case studies outline the ideas that impressed the judging panel and how they impacted on care.
Entertainment Learning in Health Education - University Hospitals of Leicester Trust
When the team in Leicester realised that hospital information in emails and on posters was failing to grab the attention of its target audiences, it decided it needed to bring its messages to life by spicing them up with music and video imagery.
Entertainment Learning was launched to provide patients with fun, informative guidance on how to choose and use the right asthma inhaler.
'There's an appetite for videos dealing with dull information presented in an entertaining way'
It combines expert advice with the latest visual learning techniques.
The content is also a perfect fit with social media platforms such as Twitter and Vine.
The scheme is still being formally assessed but could be used effectively in a number of other public health priority areas such as smoking, obesity and stroke.
The Chloride Dipstick in Dehydration - University Hospitals Bristol Foundation Trust, UH Bristol and the Biomedical Research Unit in Nutrition, University of Bristol
It does not take much to help intravenously fed patients to avoid becoming dehydrated, allowing them to stay at home rather than visiting their GP or hospital clinic.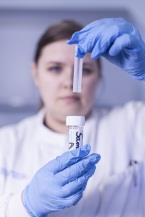 All you need is 50p or, more specifically, a Quantab Chloride Stick.
"The idea of using technology already being employed in industry was a bit of a eureka moment," says Fergus Hamilton from UHBristol.
"It would be fantastic to help people avoid hospital visits and manage their own conditions."
This simple home testing kit costs just 50p and keeps track of a patient's fluid intake and hydration levels.
The stick reacts with the chloride/sodium in a patient's urine, giving an accurate reading of hydration on a numbered scale.
'This simple home testing kit costs just 50p'
The test takes just 20 minutes to carry out and helps engage patients in their own care while reducing their reliance on others, so everyone – patients and NHS staff – gain time, and everyone saves money.
The technique also has huge potential to be used in other areas of the care system, such as nursing homes.
NeoMate - London Neonatal Trasfer Service, Christopher Kelly and Syed Mohinuddin
Everyone would like on the spot reassurance and expert support at times, especially when being asked to take instant, life affecting decisions.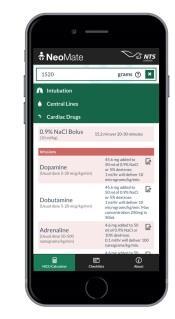 Junior doctors and district nurses treating very sick babies are now being provided with just that – a "virtual senior colleague", via the NeoMate app.
"Paediatric junior doctors can find themselves in a daunting or stressful situation," says Christopher Kelly, London Neonatal Transfer Service.
"With NeoMate you just reach into your pocket and the information is at your fingertips."
NeoMate provides instant decision support and advice at the touch of a button, thereby saving vital time.
It runs with complex drug calculations and combinations and can makes a significant contribution when there is no immediate access to highly specialised neonatal intensive care facilities.
NeoMate will be free to download on all major smartphones and there are plans for a national roll out.
Quality Issues Reporting System – The Red Button, Greater Huddersfield Clinical Commissioning Group
The Red Button has been designed as an early warning system, which flags up looming problems or issues with the way care ie being delivered.
Its strength is that, by collecting data on complaints, concerns or examples of poor experiences, it can prompt action even before most people realise there is an issue to be addressed.
'It can prompt action even before most people realise there's an issue'
"The idea is to collect trends, themes and issues known around the local health system to give an early alert to any potential issues, before an incident happens," explains Emma Bownas, quality manager of Greater Huddersfield CCG.
The Red Button is a prototype, web based reporting system, developed in Huddersfield, which allows GPs to log any quality issue or concern they may have, while also including important feedback from patients.
This is collected by the local clinical commissioning group, before being used in conjunction with other safety measures in the health system to help monitor overall quality.
Plans are being developed to fully automate the way The Red Button collects and analyses its source information.
RELAX Anaesthetics - Chelsea and Westminster Hospital Foundation Trust, Peter Brooks and Daisy Fancourt
A child about to undergo an operation suddenly gets upset and refuses to let the anaesthetist insert a needle into his or her arm. What do you do?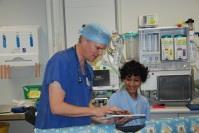 The anaesthetic team at Chelsea and Westminster tackle the situation by producing an easy to clean iPad, loaded with entertaining games and tasks.
The RELAX Anaesthetics app - the brainchild of anaesthetist Peter Brooks - holds around 50-60 games, programmed according to age, gender and the child's level of distress.
"This brings together an exciting fusion of technology, arts and games to transform patient experience and outcomes," says Daisy Fancourt, arts and enterprising health manager for the trust.
"We're looking forward to launching it in hospitals across the UK."
'The NHS advantages could be huge: it could save operating time loss'
Not only does the device act as a distraction, it even helps to obstruct the child's view of what is going on, allowing busy anaesthetists to concentrate on important drug calculations rather than trying to find the right book or game to distract their patient.
Data is currently being collected on the app's success. For the NHS, the advantages could be huge: on average, around 3,000 minutes of operating time are lost in the UK each month because of such delays, with some operations starting up to 1.5 hours late.