The leader of Greater Manchester's devolved health and care system is leaving to join a local authority, he has announced.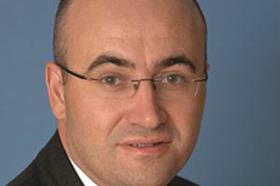 Jon Rouse became the first chief officer of Greater Manchester Health and Social Care Partnership in 2016. It was a unique post and arrangement, with national government then hailing it as a major plank of policy, and securing a deal for extra NHS transformation funding.
Mr Rouse, previously a council chief executive and director general of social care at the Department of Health, will leave early in the new year to take up a new role as city director and head of paid service at Stoke-on-Trent City Council, a role similar to chief executive.
It comes as Greater Manchester seeks to negotiate for a new round of additional NHS transformation funding, and there are signs it is having difficulty securing this.
Meanwhile, changes in government and policy mean Greater Manchester is increasingly treated under NHS rules as only one of more than a dozen "integrated care systems", rather than a unique project, although there are important differences in its governance to other ICS.
There has also been reorganisation in the NHS, which means that, since April, Mr Rouse has been reporting to the NHS England and Improvement regional director for the north west, rather than to the NHSE national chief finance officer, as was previously the case.
The GM project has blazed a trail on health and social care integration, and has claimed a number of improvements in health related outcomes and services. But it has struggled to deal with poor performance on the accident and emergency four-hour target.
Greater Manchester partnership chair Lord Peter Smith said: "Jon… has worked tirelessly to help Greater Manchester deliver its shared health and social care vision.
"Our collective achievements for our population over the last three years have been significant, from real gains in health — with the lowest ever rate of smoking and highest ever level of physical activity — to improvements in early cancer diagnosis and survival rates, school readiness, maternal safety, social care quality, primary care access and mental health services, among many others."
Mr Rouse said: "It has been a privilege to spend the last few years helping build our unique devolved model for improving population health. I am very proud of the progress made, the results achieved, and the strength of partnership established.
"I have every confidence that the Partnership will go from strength to strength and will take much learning into my new role."
Mr Rouse was placed at number 28 in the 2018 HSJ 100 list.
His Stoke appointment is subject to approval by a council meeting tomorrow.
Steve Wilson, the GM partnership finance director, is leaving next month.