WORKFORCE: A Kent trust paid £315,000 for the services of two "off payroll" interim human resources directors who were together in post for less than a year.
Kent and Medway NHS and Social Care Partnership Trust saw its first interim HR director leave within four months. It then appointed a second interim at equally high rates.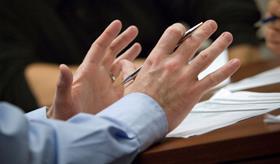 Paul Jones was at the trust from mid April 2015 to the end of July. The trust paid £105,000 for his work.
The trust then appointed Jacolyn Fergusson from late July through to mid March 2016. The trust paid her £210,000. The trust said permission on costs was sought from the NHS Trust Development Authority, which also approved Ms Fergusson being off payroll for longer than the usual maximum limit of six months.
The trust's previous HR director was paid £85,000 a year – making her replacements three to four times more expensive. The trust said it has managed to fill other positions temporarily vacant internally but this was not possible for the HR director role.
A trust statement said: "KMPT appointed an interim director to undertake a full review of the structure and scope of the provision of HR services across the trust. For the calibre expected, there is a highly competitive interim market. Unfortunately the initial appointment left the trust at short notice for personal reasons delaying the continuity of this work, and a further appointment was made to develop and implement the necessary plans.
"We recognise that the role of HR director is crucial in any organisation for recruiting, training, appraising and motivating staff, and KMPT gives much importance to this essential, senior position. We now have an excellent, substantive member of staff who is paid at the usual HR director rate."
In late July 2015 King's College Hospital Foundation Trust announced Mr Jones had been appointed as interim executive director of workforce development.
Ms Fergusson went on to work as interim director of people and organisation health at North Bristol Trust.