A community trust is facing staff turnover of 20 per cent a year as it struggles to replace and retain staff who are retiring, relocating or looking for a better work-life balance.
Kent Community Health Foundation Trust had 860 staff leave in the year to January 2016, meaning turnover on a rolling basis was 19.56 per cent. It peaked at over 20 per cent in November, its latest board papers show.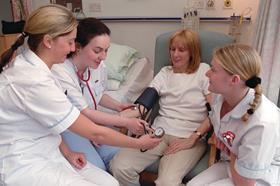 A minority of staff transferred to new employers as a result of services moving.
The trust was operating with 8.43 per cent vacancy rate, up from just over 6 per cent at the beginning of 2015-16. In some areas of the county, such as west Kent, more than 20 per cent of posts were vacant.
It has seen increased vacancies among healthcare assistants and other support staff, and itsboard papers warn "the trust has not been able to sustain the level of healthcare assistant recruitment required".
The trust built up its own bank of staff early last year but has since seen numbers fall, making it more challenging to fill vacant shifts from among them.