COMMERCIAL: One of the losers in a £126m community services tender has written to commissioners to query their methodology.
Kent Community Health Foundation Trust submitted a bid for the services last year but was beaten by Virgin Care.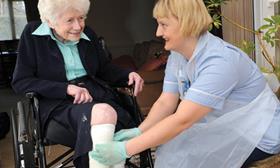 The seven year contract was tendered by Swale and Dartford, Gravesham and Swanley clinical commissioning groups last year and announced last month.
The trust made its bid in alliance with Maidstone and Tunbridge Wells Trust. Virgin's bid also beat Dartford and Gravesham Trust.
Kent Community Health's acting chief executive, Lesley Strong, told HSJ her organisation was "asking for clarification on a number of issues including how they evaluated Virgin's mobilisation plan, which is a critical element of the tender scoring".
Both the community trust and the commissioners said no formal objection or legal challenge had been mounted against the process.
A report to the trust's board of governors from finance director Gordon Flack said it had scored higher than Virgin in the quality assessment.
It added that the CCG assessment "took no account" of the loss of economies of scale, redundancy costs of staff that do not transfer to Virgin and the cost of retraining staff in new IT systems.
Mr Flack added: "Governors will be well aware the trust has spent considerable effort and incurred significant cost in implementing a new mobile IT system to provide an electronic patient record. This will not transfer to the new bidder and staff will be subject to a new system from the new provider but this is unlikely to be available by 1 April [when the contract starts]."
Patricia Davies, accountable officer at Dartford, Gravesham and Swanley CCG and NHS Swale CCG, said last month: "All bids received were of the highest standard and scored similarly on quality, but in overall terms and against the value for money criteria, Virgin Care scored the highest."
Mr Flack indicated that Virgin would also have to appoint staff for the continence service, speech and language therapy, and orthotics services because the people who delivered them at the trust performed most of their work in other areas and so would not transfer to the private operator.
Mr Flack said the trust would not consent to do the work as a subcontractor for Virgin while these issues were still being resolved.
A spokesperson for Dartford, Gravesham and Swanley CCG said: "The process has not been formally challenged, and has been rigorous, robust, fair and in compliance with our statutory duties as commissioners of NHS services."
A formal judgement is due soon in another competition case that pitted an NHS provider against one from the private sector.
Monitor has timetabled a response to the dispute between CCGs in north east London and Care UK over an elective treatment centre on a site owned by Barking, Havering and Redbridge University Hospitals Trust for "early February".
HSJ reported the "potential issues" the competition regulator had found with the commissioners' tendering process last week, suggesting Monitor had found for the private provider, who claimed it was unfair for the trust to have said it could provide the service below tariff rates.