Kettering General Hospital may face a police investigation over whistleblower allegations it deliberately manipulated RTT data
Trust "absolutely refutes" allegations but admits 138 patients experienced harm due to overly long waits for operations
Northamptonshire Police says it is "working in partnership" with the CQC and NHS Protect to review allegations
Allegations that a Midlands trust may have harmed patients by deliberately manipulating waiting time data could be investigated by police, it has emerged today.
Kettering General Hospital Foundation Trust has been accused by a former employee of interfering with referral to treatment data to exclude patients who have waited over a year or have not been in touch with the hospital for more than six months.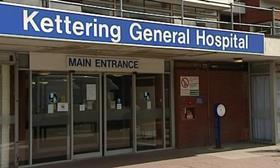 A spokesman for Northamptonshire Police confirmed it has been in contact with the trust but was "not at the stage" of launching a formal investigation. He said: "An allegation of potential misconduct at Kettering General Hospital has been made to Northamptonshire Police and we are in the process of scoping that allegation."
He said the police would be "working in partnership" with the Care Quality Commission and NHS Protect to review the concerns raised by the whistleblower. A police investigation could be launched in future depending on what the CQC and NHS Protect find.
A statement from the trust said it "absolutely refutes any allegation that it has deliberately manipulated its waiting list figures".
Kettering General Hospital's interim chief executive, Fiona Wise, told HSJ: "We are aware of the recent development that the Police and NHS Protect have both been contacted and naturally we will work with them to demonstrate how we have handled our waiting time issues."
HSJ reported in February that the trust has had a longstanding problem with its RTT data and it had not reported the data from December 2015 to March 2017. The trust said it suspended reporting due to "data quality and system issues" but admitted that a review of patients left waiting found "two cases of moderate harm and 136 of low harm".
A board paper, published last week, said it would not "reduce the number of patients waiting 52 weeks" until the end of June, or comply with the national standard of seeing 92 per cent of patients within 18 weeks of referral until March 2018.
As of the end of May, 282 patients have waited more than a year to be seen by the trust and just 73 per cent of patients are seen within the expected 18 weeks.
The trust had already missed its deadline to return to RTT reporting by the end of December.
The trust's risk management plan published at the end of March said it has been the subject of a formal RTT investigation by NHS Improvement as well as taking part in "escalation meetings" and "clinical harm review meetings" with NHSI, NHS England and local commissioners.
It had also "formally engaged Cymbio", a technology consultancy company, to "undertake validation, cleanse data and implement an electronic management system", and CPA Consulting to undertake an external review of the management of RTT.
The CQC placed the trust in special measures in April and issued a warning notice in December for the trust failing to have full oversight of "potential risk to patients". The report said: "The hospital had serious concerns around the accuracy and quality of its referral to treatment data and reported position, with the correction of this being a hospital priority".
A CQC spokesman said: "The CQC is aware of the matters concerning RTT and has referred this to NHS Protect. We are monitoring the situation closely and liaising with NHS Improvement, NHS England, the CCG and trust with regard to this. We await the outcome of the referral to NHS Protect and the police investigation."
A spokesman for NHS Protect said he could not "confirm or deny" that the regulator was looking into concerns at the trust and it was not policy to discuss potential investigations that may currently be active.
Source
Police, trust, CQC and NHS Protect statements