Kettering trust excluded at least 26,000 potential patients from waiting list using "unsafe" data filtering "solely intended" to omit long waits
Damning report found RTT performance data has been "fundamentally flawed" since 2006
Trust denies fraud but admits senior managers "failed to act appropriately"
A Midlands trust has admitted at least 26,000 potential patients were cut from waiting lists every month using a method condemned as "unsafe" by an independent review.
Kettering General Hospital Foundation Trust today released the damning report into its referral to treatment data.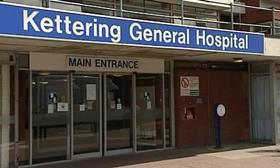 Kettering General Hospital
It also made a statement ahead of a review by NHS Protect into allegations by a whistleblower that the trust deliberately hid long patient waits to avoid fines from its commissioners.
The report, by consultants CPA, found that during a four month period in 2015 at least 30,000 patients in total were omitted from performance data submitted to NHS England by the use of six data filters. It said that while five of these "might be appropriate where the was confidence in the data", the sixth one was "unsafe" and "solely intended" to remove patients waiting over 26 weeks as outpatients or 52 for inpatient work.
The report said the "unsafe" filter removed over 26,000 patients and while the accuracy of the RTT data was so poor that not all these patients would be have needed current treatment, there was a "serious risk of excluding real and active patients". It also said it can find no evidence that these "exclusions [criteria] were approved by a trust committee".
It found that other "tactical solutions" implemented since 2006 as the trust readied itself to begin reporting national RTT data from 2008 meant it is "likely" that there have been "unreported patients" waiting more than a year since 2008. These tactics included using the date a clinician decided to treat the patient as the starting point for the RTT 18 week wait.
The trust admitted senior managers "failed to act appropriately" to stop patients waiting too long for operations but denied allegations by a former employee that it deliberately manipulated waiting times data.
The trust said it did "filter" patient data up until December 2015 and accepted this was "not appropriate". However, it said there was "no evidence of fraud whatsoever" and efforts by senior managers to address problems with RTT data were "well intentioned".
The CPA report found:
The trust's RTT performance data was "fundamentally flawed" for over a decade because it had been using "tactical solutions" to generate data since 2006. The report said the use of these filters was "not fit for purpose" and the result was the clock on patient waits was "stopped artificially and inaccurately".
"Senior managers [at the trust] were aware of the tactical approach to reporting [RTT] performance" and the approach had become "normalised".
Since 2008 the trust's "reporting data suggest it was delivering RTT compliance when in fact its true position is unknown and the data is a best guess". The trust did not suspend its reporting of national RTT data until December 2015.
Kettering missed a "very significant opportunity" to put things right in 2013 when it implemented a new data system.
The trust knew about the data problems since February 2014 when the first of three reviews commissioned to look at RTT data inaccuracies reported back to the board and criticised it for not "taking the issue more seriously".
Criticised a cost cutting exercise in 2011-12, when RTT administration experts left the trust, as "misguided".
Trust medical director Andrew Chilton said: "We acknowledge that our attempts to get at a true picture of the size of our waiting list involved filtering of data. Data filtering is done to remove patients who are not part of the dataset measured by national referral to treatment time pathways.
"The CPA review found our use of filters – considering our underlying data quality issues – was inappropriate and we stopped using them in December 2015.
"We accept that using filters – when we had underlying data issues – was not appropriate and did not help us establish the true lengths of our waiting lists.
"However, the allegations brought by the former member of staff that this was done to deliberately make our figures look better and to avoid fines from our commissioners for long waiting patients is entirely false."
The trust's statement said RTT data had been inaccurate due to "historic failings", which included "inadequate operational management and reporting practices, underinvestment in IT, problems surrounding the implementation of a new computerised patient information system, and insufficient staff training".
The trust may also become subject to formal investigation by Northamptonshire Police depending on findings by NHS Protect, which is expected to conclude in "due course". HSJ also understands the Care Quality Commission is currently inspecting the trust.
Kettering admitted last month 282 patients had been waiting more than 52 weeks and 138 incidents of patient harm have occurred as a result. The trust said it has reduced its year long waits to 170 as of the 26 June and "aims to clear its backlog of long waits entirely by August 2017". It started reporting its RTT performance again in March.
Source
CPA report; trust statement; information provided to HSJ