A London teaching hospital trust will end the 2017-18 financial year with a deficit of around £120m, HSJ understands.
King's College Hospital Foundation Trust's most recent board papers said it had recorded a deficit of £97.6m at the end of January – £13.1m worse than in December.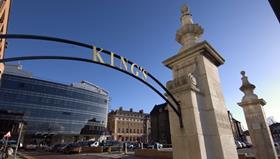 Although the organisation would not confirm what year end deficit position it had now agreed with NHS Improvement, HSJ understands it is around £120m.
Trusts have usually had their deficit positions covered by bailouts from the Department of Health and Social Care, approved by NHS Improvement, but this would be the first time a trust has officially ended a financial year with a deficit of more than £100m.
The only other trust not to include a forecast outturn in its most recent financial report to the board is Barking, Havering and Redbridge University Hospitals Trust. Both King's and BHRUT are in financial special measures.
King's started the year predicting a £40m deficit.
A trust spokesman said: "Publishing a year to date actual [deficit position] provides a reasonable and current financial position for the trust."
Chief executive Nick Moberly announced his departure to staff earlier this month. He will leave the trust next month. HSJ understands his exit has been in train since the resignations of the trust's chair, finance director and chief operating officer late last year.
The trust's most recent board papers showed income £27m less than planned for the year and costs were £18m higher, with savings plans underdelivering.
King's anticipated outsourcing £40m worth of clinical work to non-NHS providers in 2017-18, though this budget was overspent by 6 per cent at month 10.
Source
Information obtained by HSJ; trust board papers