FINANCE: Two hospital trusts are embroiled in a row over more than £3m of unpaid bills that could significantly affect their year-end financial positions.
Dartford and Gravesham Trust claims King's College Hospital Foundation Trust owes it £3.1m for services and facilities it provides, including at the Queen Mary's Hospital site in Sidcup, which used to be run by South London Healthcare Trust.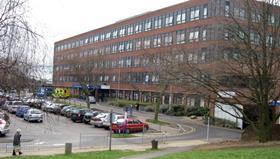 King's – which took over part of South London when it was dissolved in 2013 – provides some services at the Sidcup site, which is now run by Oxleas Foundation Trust. Dartford and Gravesham also use the site to provide many diagnostic and support, some of which King's use.
The legal position around the outstanding debt was discussed by Dartford and Gravesham's finance committee at the end of March. Chief executive Susan Acott said she had written to the King's chief executive "regarding withdrawing ophthalmology facilities at Darent Valley Hospital and was considering stopping providing obstetric scanning services to King's at Queen Mary's Hospital".
She added that King's needed to "confirm the clearance of the debt and profile the repayments; however if this was not received within one month the trust should escalate the issue". The trust is reporting progress on the debt to NHS Improvement.
Dartford and Gravesham ended 2015-16 with debt of £7.6m – twice as much as planned. Writing off the unpaid King's debt would push its deficit to £10.7m.
A spokesperson for Dartford and Gravesham said: "The debt is owed for a range of services and facilities that we have provided to King's on a day to day basis. For example, we provide clinical and support services to King's at Queen Mary's Hospital in Sidcup where we supply radiology and information technology support. The board has now raised the debt as a serious concern because of the impact it will have on our own financial position."
King's would not comment on the debt or its repayment.