Four senior operations staff at Lancashire Teaching Hospitals Foundation Trust announce resignations
Operations director Suzanne Hargreaves cites extreme pressures facing the trust when explaining her decision
Trust says its operational performance has been "extremely challenged" but the timing of the departures was "unfortunate coincidence"
Four senior operations staff at a struggling acute trust have handed in their resignations, with one citing the extreme pressures she and other staff have had to cope with, sources have told HSJ.
It is understood that the operations director and three divisional directors at Lancashire Teaching Hospitals Foundation Trust have all announced their departures in the last fortnight.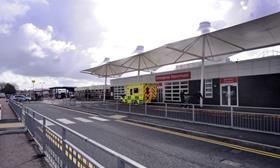 It comes after an extremely difficult winter for the trust, which has led to consultants and nursing staff writing to the trust board to raise concerns about the pressures in its accident and emergency departments in recent weeks.
Multiple sources have told HSJ that Suzanne Hargreaves, the operations director, handed in her resignation last week and cited the severe pressures when explaining her decision.
The trust said she had "worked tirelessly" but had decided it was "time for a break after four years in the job". It is unclear when her last day will be.
Meanwhile, Alison Haughton, divisional director for surgery, Lisa Hulme, divisional director for medicine, and Nina Russell, divisional director for support services, have also resigned within the last fortnight.
The trust said they had all been successful in applying for jobs elsewhere and the timing of their departures was an "unfortunate coincidence". HSJ is aware of the jobs they have accepted but has opted not to publish details as they have not yet been publicly confirmed or announced. It is understood they will leave in July.
The resignations come at a difficult time for the trust board. HSJ understands it recently received a letter from A&E consultants at Royal Preston Hospital, which raised concerns over unsafe staffing and dangerous levels of overcrowding in the department.
This was followed by a letter from nursing staff at the A&E at Chorley and South Ribble Hospital earlier this month, who complained of having to work shifts of up to 17 hours and threatened to withdraw their "goodwill". They have warned the trust they will start finishing their shifts on schedule if the situation is not resolved.
The trust has prepared action plans to address the concerns, including the use of nursing agencies that are not approved by national bodies.
The trust is expected to report a £40m deficit for 2017-18, around £20m worse than planned, while performance against the four hour A&E target has been around 80 per cent over winter.
Elective performance has been around 83 per cent, against the 91 per cent target, while the trust had one of the highest rates of cancelled operations over the winter and has consistently struggled on cancer waits.
Amid these difficulties, the trust is trying to progress with a major reconfiguration, which is likely to lead to the consolidation of emergency services.
Chief executive Karen Partington told HSJ: "Our operational performance has been severely challenged in recent months and especially during the winter period. We have recently introduced a continuous improvement approach, and are working with local partners to make system-wide changes to urgent and emergency care pathways in particular.
"We are confident that a systematic and detailed review of pathways and service design will drive the necessary improvements to performance going forward."
She added: "In an unfortunate coincidence of timing three of our divisional directors have recently confirmed that they have been successful in their applications for positions in other organisations – and we wish each of them every success. We are taking the opportunity to review our structure and will seek to make new appointments shortly.
"Separately, Suzanne Hargreaves, operations director, has decided it's time for a break after four years in the job.
"Suzanne has worked tirelessly in this role and throughout her career to develop and deliver the highest standards of services and provide safe and effective care for patients and we thank her for her dedication and commitment, and wish her well for the future. We are currently considering interim arrangements."
Source
Information provided to HSJ
Four senior resignations at struggling hospital trust
1

Currently reading

Four senior resignations at struggling hospital trust

2