Neil Masom explains how the next chief executive will continue to lead a dramatic transformation of Southport and Ormskirk Hospital Trust.
I joined Southport and Ormskirk in December 2018 after 30 years in complex regulatory businesses and 10 years as a non-executive director, including East Cheshire Trust in Macclesfield, Cheshire.
What inspired me to join the trust was the example set by the refreshed, inspirational and dynamic leadership team. Their emerging strategy for the organisation was exciting, showing a determination to cast off the difficulties the trust had faced in the past.
Our departing chief executive has been rewarded for his leadership with an appointment to a bigger trust.
His successor has the opportunity now to continue the journey he began with the recognition and potential rewards there to be earned for a job well done.
Why this job?
I firmly believe it was the indefatigable passion of our staff that got the trust through the difficult days that preceded the appointment of the current leadership team. It is their can-do attitude that makes working at Southport and Ormskirk so very rewarding.
They are front and centre of our recovery – and the evidence of the past year shows they are more than up to the challenge:
From being one of the worst performing accident and emergency departments in the north west, we are now one of the best;
Cut corridor treatment of patients by 67 per cent;
Significantly reduced ambulance handovers over 60 minutes, becoming the most improved in north west;
Maintained referral to treatment at over 92 per cent since December 2016;
Had zero cases of MRSA bacteraemia since autumn 2017;
Maintained sepsis identification at 100 per cent.
Most notable of all, a relentless focus on safer care has dramatically reduced patient mortality by both the SHMI (111.14) and HSMR (101.5) measures – with further falls expended.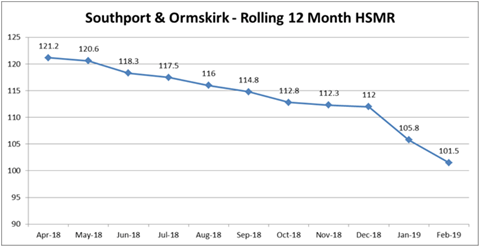 The commitment of everyone to move on and make up for lost time has impressed me greatly. We are a trust "in a hurry", keen to get things done for our patients, and it will be the job of a new chief executive to capitalise on that momentum.
Why this organisation?
Our Vision 2020 strategy is a road map that sets out how we will become a successful and sustainable provider of healthcare for local people.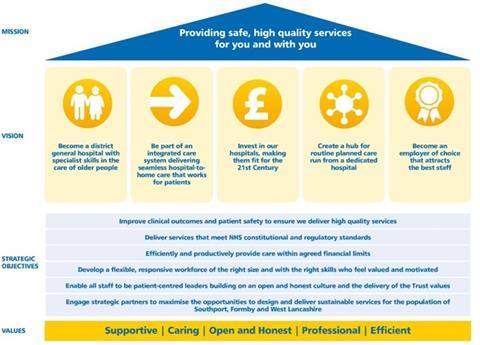 We have set ourselves an ambitious timeframe for delivering the Vision 2020 strategic objectives underpinned by a detailed quality improvement plan.
One of our most important strategic objectives for 2019-20 is to engage with our partners to develop opportunities for joint working across all the health providers across the region.
How services could be organised in the future range from keeping services as they are, redeveloping and improving the hospital sites at both Southport and Ormskirk through to making the case for a new hospital.
This is fundamental to our being able to develop an affordable, sustainable acute services model and provide a sustainable model for acute care across Sefton and West Lancashire to transform the way future health, care and wellbeing services are delivered.
How will this role advance your career?
Southport and Ormskirk is a trust of opportunities. With a workforce just shy of 3,000 people, we are big enough to matter but small enough for the right candidate to make their mark where and when it matters.
Our Vision 2020 strategy means you will be working with colleagues across the local health economy, driving collaborations and making your influence felt across a wider regional footprint.
You will also benefit from leading a driven senior team backed by a workforce with a fresh and growing sense of purpose.
To find out more about the role and apply click HSJ Jobs