Brunel University's professor of healthcare systems Terry Young tells Daloni Carlisle about his department's quest to bring modelling and simulation into health service delivery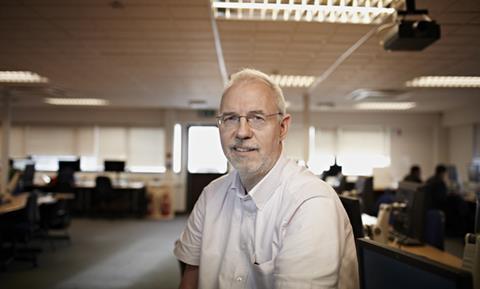 When Terry Young was working on fibre optics in 1985 at GEC-Marconi, he and colleagues fondly imagined that it would enable broadband to reach all households by around 1990.
"We really thought it would conquer the world in four to five years," he says from his office at Brunel University, where he is now professor of healthcare systems in the information systems and computing department.
"We had the right business plans, which outlined how fibre optics would come to every household, or at least to the nearest lamppost. Coming up on 30 years later and that vision remains unfulfilled."
'Even in research you had to understand business models and how to go out and blag money out of people'
He was, as he now admits, somewhat naive. Back in 1985, the worldwide web had not been invented and as for Google, online shopping and the rest… well, enough said. Most people simply could not have imagined why they would need broadband at home, even if they had heard of it, so there was really no public or political appetite.
As the applications around the technology advanced, so did the understanding of its potential and uptake of the infrastructure. Rural communities now campaign for high-speed broadband and the government now has a goal to extend fibre optic broadband to every business and home by 2015. As Professor Young notes: "The route to market is very, very irregular."
Wealth generator
Today, Professor Young brings his learning about innovation, technology, information systems, business and the bumpy road to market to the healthcare arena. His department has won £13m in Research Council grants to investigate the value of technology in healthcare and how to bring modelling and simulation into health service delivery.
His vision is of healthcare not as a resource-hungry machine gobbling up an ever-greater proportion of GDP but as a national industry generating wealth and jobs.
He argues that speculative R&D investment and procurement of systems in defence has proven that it can be done. For example, it was the military that invested in developing modern communications, that bought the first units off the assembly line and created an industry that gives us affordable smartphones with satnav tracking devices embedded.
Terry Young, professor of healthcare systems
First degree in physics and electronics at Birmingham University, 1981.
PhD in laser spectrometry followed by a move in 1985 to Marconi's research centre, where he worked on fibre optics and broadband development.
Spent more than 16 years at GEC-Marconi and then Marconi, including two years as business development director for medical systems.
2001, appointed professor of healthcare systems at Brunel.
Married to a nurse, Danielle, and has three sons.
Active in his local Baptist church in Slough.
Has an ongoing project with Aidan Halligan, former deputy chief medical officer of the NHS, developing a staff college for the NHS.
Today, healthcare spending in the UK and the US outspends defence by three to one but, apart from biotech and pharma, this is not creating new industries. Isn't it time that healthcare started creating wealth and jobs by similar speculative investment and procurement?
"What we need to do is find some problems that are exquisitely difficult, find a way to address them properly and develop them to generate wealth creation in other areas," says Professor Young.
One fruitful area might be investing in people-centred, natural language systems that wrap around people's needs. This is at the heart of delivering high-quality efficient care - and could generate tools for use in other industries.
His ideas tie in closely with NHS chief executive Sir David Nicholson's Innovation, Health and Wealth agenda as well as the prime minister's life sciences strategy. Across the pond, there are clear links with Barack Obama's science and innovation agenda and his ambition to increase government spending on wealth-generating research by 11.6 per cent (some $7bn) in 2012.
Business savvy research
But as Daniel Sarewitz, co-director of the Consortium for Science, Policy and Outcomes at Arizona University pointed out in his critique of Obama's plan in the journal Nature in 2011, civilian industries - including health - are not very good at this kind of research. They lack the structure and institutional architecture to create sustained links between knowledge generation, technical innovation and desirable social outcomes.
Mr Sarewitz concluded: "The United States must transform its science enterprise to enhance links between research and its application to national needs."
It is a conclusion with which Professor Young agrees and his department's work is at least in part informed by trying to build the institutional rigour and architecture to create these sustainable links in the UK.
He comes to the challenge with an interesting blend of skills and experience. His professional background is in physics and electronics and during his industrial research career at GEC, and later at Marconi after the conglomerate demerged in 1999, he followed a corporate career structure that saw all researchers engaged in business planning and selling their skills.
Blagging money
"One of the management techniques was to make sure everybody in the business earned their living," he says. "Even in research you needed to find out about business and articulate the value of what you were doing. You had to understand business models and how to go out and blag money out of people. It was terrific training even though I did not like it at the time."
He developed an interest in healthcare systems at this point. "There were several companies both in the UK and US that wanted to understand how they could make good business products for the healthcare market," he says. "So the challenge I picked up was to try and understand the value of knowledge and information in healthcare."
'It seems to me that there is not much of an appetite in health for modelling and I am not sure why'
His thinking - and we see echoes of it very clearly today in health secretary Jeremy Hunt's inclusion of a technology revolution among his top four priorities for the NHS - was that getting the right information systems to underpin processes and operations would deliver a great deal of value.
But back in 2000, says Professor Young, this idea was not well developed. "People did not really have very good value propositions. They had a feeling that information and knowledge ought to be worth a lot but actually building systems around that is very, very difficult."
So he moved to academia to develop his ideas and after overcoming a predictable culture clash (academia values research awards grants and recently published papers and Professor Young's impressive CV included neither; management in industry uses levers around pay and hierarchy, both of which are absent in academia) he began to build a department that now has a growing international reputation.
Supporting good ideas
His first major grant in 2003 was as part of the MATCH (Multidisciplinary Assessment of Technology Centre for Healthcare) collaborative, which works with universities, industrial partners and the NHS to develop tools to assess the value of medical products.
It aims to help improve their decision making by linking clinical demand, business processes and investment decisions so that companies can bring better products to the healthcare market more quickly and less expensively and allow healthcare providers to adopt products with more confidence more quickly.
The question of how much a medical device is worth is a complex one: worth what to whom? "There are at least three ways of looking at a medical device," says Professor Young. For a company it is a money-making proposition, so the question is whether you can do anything to help them decide where to invest and how much.
Then there are the decisions made by clinicians and the NHS as purchasers - and here Brunel is collaborating with Birmingham University to bring health economics to the equation, drawing on work by the National Institute for Health and Clinical Excellence.
Finally there are the decisions made by users and carers. Much of the information about their preferences these days is held in social media and Professor Young is now investigating how to apply modelling techniques to blogs and tweets.
"What we are trying to do is apply thematic analysis to social media to help those people with a good idea and are just at the start can capture user views because often the decisions you make at the start of a new idea are very far reaching."
Lack of appetite
Another major grant came in 2009 with the RIGHT (Research into Global Healthcare Tools) project. A multicentre initiative, it aims to bring simulation and modelling techniques that are widely used in manufacturing, aerospace and the military into the NHS.
Industry and the military use modelling because it helps them understand their business flows and predict what might happen in future. But the NHS so far has failed to pick up on modern modelling techniques. Beyond "plan-do-study-act" very little in the way of modelling occurs in the NHS, Professor Young says.
"It seems to me that there is not much of an appetite in health for modelling and I am not sure why," he says. He speculates that it may be because modelling is often used as a means for "demonstrating" a need for more resources or because doctors and nurses resist the idea of viewing patients as nuts and bolts.
'There is too much of a struggle in people's minds between doing something efficiently and doing something with a human face'
But sometimes, he argues, patients are better viewed as nuts and bolts - for example, when they are waiting to go home from hospital - and streamlined processes will do the job better and allow professionals more time to care.
"I think there is too much of a struggle in people's minds between doing something efficiently and doing something with a human face," says Professor Young. "We need to bring the two together to create more time for human caring."
Now he is beginning to pull all these various strands together along with like-minded academics, industrial chiefs and leading clinicians and, hopefully, the academic health science networks.
A different perspective
Meet Professor Young face to face and you will find a charming, erudite and enthusiastic scholar. But there is no getting away from the fact he was born with all four limbs affected by thalidomide.
So how much of his focus on healthcare and devices is driven by his own experience?
His answer is straightforward. "I don't know," he says. "I think everybody has an interest in healthcare and there is an element that's altruistic and an element that's very personal.
"I think healthcare is intellectually a very stimulating area because the problems are so multifaceted and so complex. The communities in healthcare are so diverse and committed that it makes it an interesting area to be in."
What he has noted is that academics are not interested in his perspective as a disabled person.
"One of the reports we worked on in MATCH was artificial limbs - I have two - and I put in some feedback.
"The comments I got back were that because I was not qualified for research in this area my views were not particularly well received."
Getting people talking
In 2010, he convened the first meeting of what is now the Cumberland Initiative - a network of healthcare, business and academic communities with teams from more than 15 universities across the UK. Their mission is to "transform the quality and cost of NHS care delivery through simulation, modelling and systems thinking".
They meet roughly quarterly and recently were given access to a 65,000 square feet facility that includes a warehouse where clinicians, industry and academics can mock up health systems. Professor Young hopes the centre will emulate Kaiser Permanente's Garfield Centre and as a first step he is now trying to engage a collaborative to model patient flows in urgent care using this space.
It is an idea that is generating some interesting conversations, not least as some clinicians have taken offence at the idea of the health sector emulating the military.
More importantly, though, the conversations bring together a wide range of people - engineers, academics, business people, clinicians - who might not otherwise talk to each other.
They are exactly the people who need to start talking and working together with the underpinning of scientific rigour if healthcare really is to solve some of the problems it currently faces - and do it in a way that generates wealth for all of us.
'What we need is to find problems that are exquisitely difficult'
1

Currently reading

'What we need is to find problems that are exquisitely difficult'

2