"Fragmented" NHS structure and relationships made it difficult to stop mental health hospital closure, review finds
Bootham Park Hospital ruled not fit for purpose by CQC
Independent report says no one "took charge" to find a solution
Patients moved from hospital with six days' notice last year
The "fragmented" structure of the NHS and lack of "strategic grip" have been blamed for a crisis leading to the sudden closure of a psychiatric hospital.
Patients at Bootham Park Hospital in York were moved out with just six days' notice last September after the Care Quality Commission ruled it was not fit for purpose.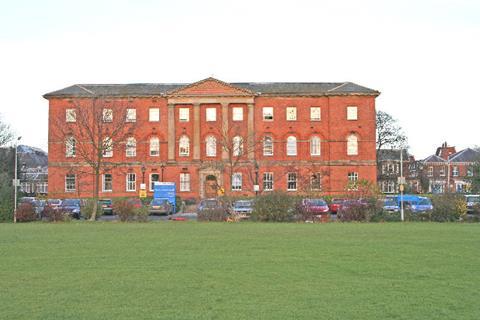 Many were transferred 50 miles or more to alternative facilities and others were sent as services transferred from Leeds and York Partnership Foundation Trust to new provider Tees, Esk and Wear Valleys FT.
TEWV won a tender last May, run by Vale of York Clinical Commissioning Group, to take over mental health services in the area including those operating at Bootham Park – a grade one listed hospital built in 1777 and owned by NHS Property Services.
The CQC had raised concerns over safety dating back to 2013 and in an unannounced inspection three weeks before the closure it again found potential ligature points, inadequate staffing and hygiene problems. A one metre square section of plaster fell from a ceiling during its visit.
A new report for NHS England's senior management team has identified lessons to be learned from the closure.
However, in an independent assessment for City of York Council, John Ransford, former chief executive of the Local Government Association, pinpointed the fragmentation of NHS working arrangements as a principal cause.
In preliminary conclusions for a meeting of the council's health and adult social care policy and scrutiny committee this week, Mr Ransford said no individual or organisation "took charge" to ensure an action plan was delivered.
He said: "The current organisation of the NHS is a factor in the difficulties which developed in this situation.
"Relationships between the various groupings are both complex and fragmented, which makes patient centred care difficult to achieve in an integrated manner.
"All of the organisations involved contributed in some way to the unintended consequence of the sudden closure of hospital facilities."
He said the key problem was a lack of "strategic grip".
"An overall view was not taken as to how patients and the community could be best served given the challenging factors which were well known to all concerned," Mr Ransford said.
"All the agencies involved focused on their particular role without sufficient attention to the big picture.
"If all organisations had worked together in partnership to deliver a plan based on the needs of patients and local people, more suitable solutions would still have been difficult but surely not impossible to achieve."
His other key findings included:
Failings in strategic leadership primarily rested with the CCG. It had re-tendered when there was a "huge risk in changing provider in the face of all the challenges being faced".
Leeds and York Partnership did not take responsibility for the building and "lost control of it to NHS Property Services".
TEWV did not carry out sufficient due diligence before taking on the contract.
NHS Property Services did not inform other bodies sufficiently of problems and delays to improvement work.
The CQC gave insufficient attention to the formal de-registration and registration of facilities triggered by the transfer of services even though it had decided the hospital was unfit for purpose.
NHS England was not involved prior to the notice of the hospital closure.
Downloads
PDF, Size 1.6 mb

PDF, Size 0.13 mb
Source
NHS England report, Ransford report
'Lack of grip' across NHS blamed for sudden hospital shutdown
1

Currently reading

'Lack of grip' across NHS blamed for sudden hospital shutdown

2