Leeds Teaching Hospital Trust to hire 500 more nursing staff
Chief executive Julian Hartley says £14m recruitment drive is to improve safe staffing levels
CQC raised trust's rating to good but says it requires improvement on safety
One of the largest teaching hospitals in the country is planning to hire 500 new nurses as part of a £14m recruitment drive to improve patient safety.
Leeds Teaching Hospitals Trust chief executive Julian Hartley told HSJ it has been trying to boost nursing numbers since the Care Quality Commission raised concerns about staffing at the trust in 2014.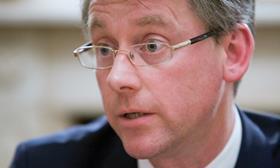 The large teaching trust had its CQC rating raised from requires improvement to good last month, but inspectors still rated it as requires improvement for safety. They said nursing and medical staffing did not always meet planned levels, while not all staff had completed their mandatory training, particularly for resuscitation.
The CQC report added: "The trust must ensure at all times there are sufficient numbers of suitably skilled, qualified and experienced staff in line with best practice and national guidance taking into account patients' dependency levels."
Mr Hartley said that since April the trust had hired 40 new nurses, with another 500 in the pipeline to join its 16,500 strong workforce. He estimated the £1.1bn turnover trust had invested £14m on recruitment in the last 30 months.
He said he recognised staffing as a "major risk and challenge" when he took over as chief executive three years ago.
"We have been targeting key speciality areas like critical care, respiratory, theatres. These are shortage areas nationally," Mr Hartley said.
"We have seen significant improvements in staffing. We are not there yet, but we are getting there."
Mr Hartley said by working with the city council and university the trust was trying to establish a reputation as good place to build a medical career, based on its improving CQC ratings and the opportunity to be involved in research and cutting edge treatments.
He said: "The trajectory is moving in the right direction, we are recruiting quite successfully as the reputation of the organisation develops."
The trust has also been chosen as one of 11 lead partners by Health Education England to begin training 1,000 more nursing associates this year.
Board papers from last month show that at the end of August the trust reported a deficit of £4.9m against a planned shortfall of £3.7m for the month. It has agreed a control total of a £1.2m surplus with NHS Improvement for the end of 2016-17.