Automated pathology system suffered faults from March, letter reveals
Problems led to 400 samples not being tested and a backlog of 2,000 tests at Leeds Teaching Hospitals
Trust says the issue was unrelated to major hardware fault last month
IT problems at Leeds Teaching Hospitals Trust's blood sciences and pathology department have occurred for months after the trust installed new systems in March, HSJ has learned.
A letter from a clinical service lead for the trust, which had a major hardware fault causing serious problems in its pathology service last month, said since March hundreds of samples have not been processed and there was a backlog of more than 2,000 tests.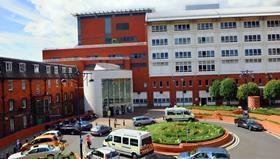 Mike Bosomworth, who is also a consultant clinical biochemist, wrote to the Leeds local medical committee in July offering an "unreserved apology" for ongoing problems.
In a summary of the letter seen by HSJ, he said: "A new automated laboratory at [Leeds General Infirmary] was commissioned in March. As a result of the installation of new IT systems, the quality of the service has fallen, both [regarding] lengthening turnaround times and incomplete processing of requests.
"Unfortunately the department experienced a new series of IT problems towards the end of June. There was therefore a further deterioration in service and it is now apparent that a significant number of requests were not fully processed. In particular, some requests for haematinics, hormones and especially HbA1c have not been reported."
The LMC was told there was a "significant backlog of requests" but most problems had been identified.
The trust told HSJ these problems were not related to the major fault that occurred on 16 September, which left it unable to report thousands of pathology tests and results having to be hand delivered to clinical teams.
More than 130 operations were cancelled, and local GPs were told to prioritise emergency tests. Commissioners have since sourced alternative pathology services with problems still being reported, and GPs still needing to translate paper results to their IT systems and match them to patients.
The trust has announced an external review to investigate what happened but has not released details of who will lead it or a timetable.
Sally Lane, clinical director for pathology at the trust, said the trust was trying to automate pathology services that would significantly improve its service.
She said: "As with any ground breaking work, there are inevitable setbacks, however we believe it is right to continue making advances while trying to safeguard against problems.
"We have been open and transparent about the recent pathology IT problem, including apologising for the impact on others. We took a similar approach in July when we had a relatively small scale and completely unrelated issue in a different system. It did not contribute to the current problem at all.
"Around 400 non-urgent samples were not fully processed by a 'middleware' system that routes information and samples. No operations or appointments were cancelled as a result.
"In a letter explaining the situation to colleagues, our clinical service lead referred to a backlog of samples which, at that time, was around 2,000. To put that figure in context we process up to 10,000 samples each day and would have expected to recover that position within two days.
"In relation to the current problem, we will be commissioning an external report to identify what went wrong and why, so that we can all learn from this. We will provide details when they are known."
Source
Information provided to HSJ
Source date
27 September 2016