Six NHS organisations set up joint group to tackle nursing vacancies
Staff could work across different providers in future
CCG lead nursing officer says plans are at an early stage
NHS organisations in Leeds are considering a shared workforce plan to tackle nursing shortages.
Commissioners and providers in the city are joining forces to attract and retain nurses, at a time when the Royal College of Nursing estimates there are 40,000 nursing vacancies in England.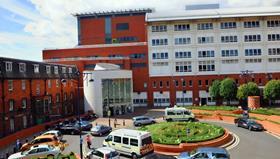 Leeds Teaching Hospitals Trust, Leeds Community Healthcare Trust, Leeds and York Partnership Foundation Trust and three CCGs – Leeds South and East, Leeds North and Leeds West – are working on the plan.
Proposals include nurses working together across multiple providers in future and community nurses integrated with practice nurses to support care closer to home.
Claire Linley, lead nursing officer at the three CCGs, said the project was in the early stages and the organisations were looking at a 3-5 year plan to tackle vacancies.
However, she said staff being "able to work more flexibly across organisational boundaries" was one of the proposals under consideration.
Ms Linley said: "There will be issues in terms of governance to look at and we are still working our way through those and will do so to a greater extent as the direction of travel becomes clear."
In March the three CCGs agreed to appoint a single chief executive and set up a joint board, making it one of the biggest commissioning bodies in the country. It covers a population of 860,000 with an allocation of more than £1bn.
Nursing vacancies in Leeds are around 10 per cent, in line with the national picture but with variation across the different organisations.
The group considering a joint workforce plan was set up 18 months ago to come up with solutions.
However, its focus has been changed to consider national developments such as the impact of Brexit and the introduction of nursing associates.
Ms Linley said: "We are trying to reduce the number of unnecessary admissions to hospital, safer and faster discharge, and that might mean nurses starting to work in different environments.
"That could be either between nurses in general practice and community nurses seeing greater integration, particularly for some more specialist pathways.
"It could be between mental health and the acute trust and primary and community care. But this is a level of detail we haven't got to yet."
She said trusts were already attending university fairs together to attract student nurses to the city rather than individual organisations.