STRUCTURE: Liverpool Women's Foundation Trust has concluded that its hospital needs to be relocated to a site that offers adult acute services.
Liverpool Clinical Commissioning Group will now lead a review of women's and premature babies services ahead of an anticipated public consultation later this year.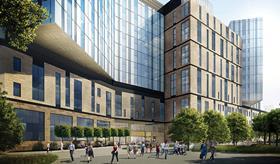 Liverpool Women's currently delivers 8,000 babies a year, as well as providing neonatal and gynaecological services, from a hospital that opened 21 years ago on a standalone site.
However, clinicians at the specialist trust last year undertook work to highlight the clinical challenges posed by continuing to operate from the site.
The trust argues that advances in medical care have driven an increase in pregnancies among women with complex health conditions – such as heart problems or diabetes – who 20 years ago would not have been able to have children. This has contributed to the need for the trust to transfer hundreds of women and babies a year, by ambulance, to other hospitals in the city.
The vast majority of transfers are to the Royal Liverpool, which provides adult acute services, or to Alder Hey Children's Hospital.
Joanne Topping, interim medical director at Liverpool Women's, said: "Our view is that we need to be based on the same site as other hospital services to maintain our very high standards. Our ambition is to keep women's and babies' services together for people who need hospital care and deliver more services closer to where people live in the community where appropriate."
Dr Topping acknowledged that the trust was facing financial challenges but said the "clinical case for change stands on its own". To illustrate the need for co-location, she gave the example of a mother who had been admitted to Liverpool Women's Hospital for a caesarean section, but then needed to be transferred to the Royal Liverpool to have a pacemaker fitted.
Clinicians from LWH had to deliver the baby at the other hospital, who then needed to be transferred back to the neonatal unit at the women's hospital. The mother was separated from her baby until she was well enough to be discharged.
Fiona Lemmens, hospital transformation lead for Liverpool CCG, told HSJ the purpose of the CCG review was partly to consider the options for Liverpool Women's in the context of the wider Healthy Liverpool programme of service redesign.
"In the past, the way health services have been built up in Liverpool has been so piecemeal, and so provider and organisationally driven and focussed," she said. "That's why we've ended up with seven hospitals in the city and all the duplication that we've got."
The review would be the "first formal step in our review of all hospital services", she said.
She said the CCG hoped to have a list of options to start discussing with the public by the summer.
A final decision on the future shape of Liverpool Women's services is not expected until early 2017.