NHS transformation leaders need to get local politicians on side to enhance joint working, writes Richard Vize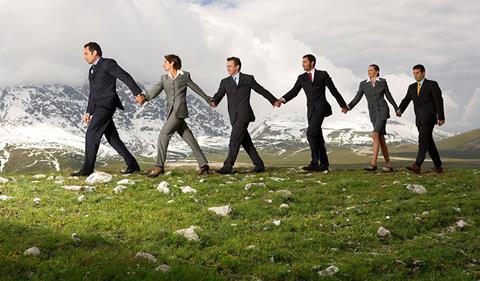 Staff need to work together to improve the patient experience
Local government matters to hospitals as never before in NHS history.
Councils oversee services vital to hospitals' success, share their money, play a central role in setting local health policy and scrutinise hospitals' performance and plans.
The legislation introducing the NHS reforms underpins much of the current relationship. Working together is tough. Both sides are short of money while many NHS staff are baffled by local politics.
'The relationship between the NHS and local government is as close as it has ever been'
"The relationship between the NHS and local government is as close as it has ever been," says Carolyn Downs, chief executive of the Local Government Association.
"Finally the right conversations are being had and the right people are having them but that doesn't mean there aren't significant cultural barriers which need to be worked at."
Caught in the middle
These barriers are rarely more exposed than when the NHS and councils are fighting over reconfiguration plans.
Trusts and clinical commissioners have repeatedly got the politics wrong when deciding major service changes, while councils are caught between three roles: giving voice to local concerns, dispassionately scrutinising the plans and helping the NHS win support for urgently needed change.
Effective councils put a firewall round their different roles so the health and wellbeing board can bring local partners together in planning and winning support for reforms, while backbench councillors reflect local worries and the scrutiny committee examines the evidence.
'Councils obviously have a role articulating local feelings'
Richard Humphries, assistant policy director at the King's Fund, says both sides need to be much smarter in the way they handle the interface between politics and NHS change.
"Councils obviously have a role articulating local feelings. [With a closure] it is extraordinarily difficult for councils in that role to support proposals. There is still a lot of NHS prejudice about 'ignorant local members who don't know anything'.
"NHS colleagues need to understand this is not just irrational bloody mindedness on the part of local authority members, it is what they are there to do: reflect public opinion.
"There has got to be some political literacy on the NHS side to understand that dynamic. So you do not present plans on a closure in the run-up to local elections, or without having informal discussions with movers and shakers."
An early and open conversation
To win backing for changes it is essential to talk to political leaders early and openly. They need to feel a sense of ownership of reconfiguration plans which will come from being part of the process which shapes them.
"We need to be involved in hospital reconfiguration discussions right at the beginning, not at the end, Ms Downs says.
"Where there is a troubled health economy, local government should form part of the solution, not be told what the solution is later in the process.
"If we are part of the solution we are far more likely to have politicians who will promote a better service for the longer term, but if you're just being told 'what do you know, you just need to put your hands up and support us at the health and wellbeing board', then that is not going to take anyone in the right direction."
'Boards are charged with providing strategic influence over health, public health and social care commissioning'
HWBs – council committees established under the Health and Social Care Act 2012 – have become the crucible for the relationship between the NHS and local government.
As the formal meeting point, everyone from health ministers down has been heaping unrealistic expectations on the boards, portraying them as the solution to everything from reconfiguring care to reducing admissions.
Phil Swann of Shared Intelligence has reviewed a number of the boards. "There is a tendency both locally and nationally to dump all sorts of stuff onto them, which makes it hard for them to focus," he says.
From trusts' point of view, the boards have two problems. They are bogged down in administrative detail – becoming a clearing house for everything in the care system instead of focusing on the big strategic issues – and there are serious flaws in the membership and role stipulated in the legislation.
Building relationships
Boards are charged with providing strategic influence over health, public health and social care commissioning. This bias towards commissioning is reinforced by their membership, which includes all clinical commissioning groups and the council directors for adult social services, children's services and public health, but does not mention trusts.
Boards are proving most effective where they build strong relationships with providers and focus on the issues where bringing all the local partners together can achieve results.
"It should be the 'go to place' for key decisions about the local health and care systems," says Mr Humphries.
King's Fund research shows around a third of boards have providers on them. Mr Swann says: "In terms of whether providers should sit on the boards there is no right or wrong answer, but what is important is that the board establishes a good and close relationship with the major providers and encourages them to contribute to its work in an effective way.
"In too many places that isn't happening. This is about system wide leadership."
For some trusts control of the better care fund – the £3.8bn pooled to accelerate integration between health and social care – has become a test of their relationship with local government.
In March the Foundation Trust Network found that 40 per cent of foundation trusts felt they were not involved in formulating better care fund plans, while just 2 per cent described themselves as being "fully involved".
Where trusts feel excluded the fund seemed like a budget cut rather than an investment in solutions.
Policy and strategy director Saffron Cordery says: "[Where] providers are not at the table, knowledge and information sharing are going to be poorer. The more we see the thrust towards integration, the more we need to ensure that everyone is round the table, not just bits of the system."
But Mr Swann warns that trusts cannot simply wait for an invitation to participate.
"Where providers don't feel actively involved they need to seek out engagement rather than sit on the sidelines and say 'we're not engaged'."
Balancing expectations
Like the boards, expectations around integration outstrip reality.
As Rob Whiteman, chief executive of public sector accountancy body CIPFA, puts it: "The government is saying integration will be the panacea to cure all funding problems. That is unrealistic."
Mr Humphries is "unconvinced" that integrating services will save much money. "The evidence is pretty clear that in the short term this is not going to save shedloads of money, and for some of the frail elderly people it may even cost more to care for them in the community.
"The prize for integrated care is a better experience; it's not about cashable savings."
The Mid-Staffordshire and Winterbourne View scandals and the reviews led by NHS England medical director Sir Bruce Keogh into trusts with high mortality rates have forced councils to assess how effectively they are scrutinising health and care providers. When services fail, councils will be criticised for not identifying the warning signs and speaking out.
'While integration will not save money, it helps ensure public spending is used more effectively for patients'
"Could the criticisms that were levelled at the Stafford scrutiny committee be levelled at them," asks Jessica Crowe, executive director of the Centre for Public Scrutiny.
"They are certainly using it for an honest, frank appraisal of their oversight of the health system. What they know about their local hospital, looking at their mortality data and seeing if they are outliers."
For most trusts their biggest local government issue is cutting delays in discharging patients.
David Pearson is director of adult social care, health and public protection at Nottinghamshire County Council and president of the Association of Directors of Adult Social Services.
He points out that - according to NHS data - the proportion of delayed discharges that are the responsibility of councils has dropped from 33 to 26 per cent in the last four years, despite social care cuts.
"Local government is acutely aware of the pressures on hospitals and the need for joint plans."
While integration will not save money, it helps ensure public spending is used more effectively for patients.
As funding gets tighter, everyone now recognises that healthcare services need to think in terms of systems rather than simply their own organisation.
All for one
Northumbria Healthcare Foundation Trust – HSJ's provider trust of the year – is a model of system leadership.
It manages hospital, community health and adult social care services and employs 400 social care managers. Community services director Daljit Lally reports to the chief executives of the trust and Northumberland County Council.
Her deputy, Vanessa Bainbridge, says joint working focuses on practical solutions to help patients. That means social care staff working in the hospital and hospital clinicians working in the community.
'We have moved on a long way and the moves are all in the right direction'
"We've got [social work managers] going into [accident and emergency] and saying 'they don't need to go on to a ward, the community matron can get them back out', and equally we've got geriatricians coming out into the community and advising our community matrons."
Ms Downs believes that, despite the problems, joint working between trusts and local government is developing rapidly.
"We are in the very early days of a new system of health leadership but we have moved on a long way and the moves are all in the right direction," she says.
"If we can move as far in the next three years as we have in the last three, there will be a significant shift."