NHS England launches "external review" of ambulance commissioning in London
Review will make recommendations for new commissioning model to start in April
Options include commissioning the contract centrally or STP-wide
National body says London Ambulance Service contract has "proved challenging to manage across 32 CCGs"
Clinical commissioning groups in the capital could lose their responsibility for commissioning London Ambulance Service following a review proposed by NHS England.
In a procurement notice, published on 1 March, NHS England called for suppliers to carry out an "external review" of commissioning arrangements for London Ambulance Service Trust, following a decline in performance in recent years. The trust was placed in special measures in 2015.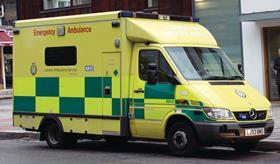 As part of the review, recommendations will be made for a new model of commissioning to start in April. The notice said options include "centralised commissioning (eg: NHS England)"; "commissioning at a STP level"; keeping the "current model with either existing or new lead CCG commissioner"; and maintaining the current model but with "expanded commissioning support unit/CCG support".
Ambulance services in London are currently commissioned locally with Brent CCG acting as lead commissioner for 32 groups across the city.
The review, which will cost £70,000, will also look at "the effectiveness, value for money and efficiency of the lead CCG commissioner arrangements". It will suggest ways "to support effective delivery of the ambulance service's performance and quality improvement plans".
NHS England said the review must be completed by 3 April.
The service specification for the review said: "In recent years there have been challenges in managing the London Ambulance Service contract and delivery where despite increased investment, underperformance against contracted performance levels has been experienced.
"It has proved challenging to manage the London Ambulance Service contract across 32 CCGs with a history of non-delivery following significant additional investment provided in 2015-16 and 2016-17 to increase frontline staffing and, support performance and quality improvement projects which to date have delivered limited progress against key outcome measures."
It added that "information will be sought from national NHS England colleagues on any national plans to recommend strengthening ambulance commissioning".
The National Audit Office published a review in January into NHS Ambulance services, which said they "are not commissioned consistently across England". It recommended that NHS England creates a standard operating framework and consistent commissioning arrangements for the services.
An NHS England London spokesman said: "The review will look at strengthening and improving commissioning arrangements for London's ambulance service, and is timed to take advantage of opportunities to link with the capital's sustainability and transformation plans."
Trust chief executive Andrew Grimshaw said: "We are aware of the review and will continue to work with commissioners to ensure future commissioning arrangements best meet the needs of Londoners."
Brent CCG declined to comment.
Source
Procurement notice and information provided to HSJ