Chair of London Ambulance Service Trust to step down
Richard Hunt due to be replaced by Heather Lawrence
LAS is only ambulance trust in England to have been placed in special measures
An ambulance trust put into special measures last year has appointed a new chair.
Richard Hunt will stand down as chair of the London Ambulance Service Trust and be replaced by former Chelsea and Westminster Hospital Foundation Trust chief executive Heather Lawrence. Ms Lawrence will take over in April.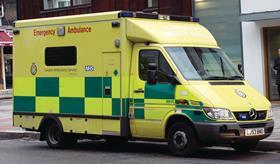 Mr Hunt has been chair of the trust since July 2009.
In November the trust became the first ambulance organisation in England to be put into special measures, after an inspection from the Care Quality Commission in June.
The trust was ordered to bring its staffing up to safe levels and was rated "inadequate" overall.
The inspectors also noted a poor working culture and a number of staff reported bullying.
Poor morale and a perceived lack of training and career progression opportunities have led to staff shortages.
The CQC inspectors said when rosters were examined for one month in 2015 they found 16-25 per cent of frontline staff unavailable.
Mr Hunt said: "We have been through some difficult times recently, but I believe that we are now seeing progress and improvements for both patients and our people. I am incredibly proud to have been part of the service, and of the care and compassion that I see in colleagues here each day. All the people who work here make a great difference to the lives of so many Londoners and will continue to do so."
The NHS Trust Development Authority's associate director of delivery and development for London, Andrew Hines, said: "I would like to thank Richard Hunt for his hard work and dedication during his seven years as chair. Richard has provided strong leadership and has been passionate about delivering emergency services that Londoners can rely on.
"Heather Lawrence will bring a wealth of experience and insight across a broad range of environments, including the NHS at the highest level, which will benefit the trust greatly. This is not only great news for the trust and its staff, but also for Londoners."