Race equality standards report finds London is worst performing region despite high number of BME staff
BME employees in London twice as likely to face disciplinary action
White staff more likely to be appointed from a shortlist than BME staff in the capital
The London NHS region has the worst performance against race equality standards despite having the largest black and minority ethnic workforce in England, a new report has found.
According to the second annual workforce race equality standards report, BME staff in London are twice as likely face disciplinary processes than white colleagues.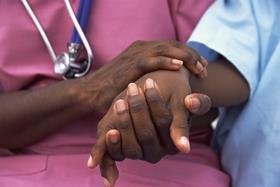 The region also had the highest percentage of BME staff experiencing harassment, bullying and abuse from patients, relatives and the public in last 12 months at 30 per cent. It also had the highest percentage of BME staff experiencing harassment, bullying or abuse from colleagues in the last 12 months at 29 per cent.
Compared to BME colleagues, white NHS employees in London are 1.8 times more likely to be appointed from a shortlist. The England average is 1.6. The South region also exceeded this at 1.7.
Fifty-one per cent of staff in pay bands 1-4 in London are from BME backgrounds, as are 44 per cent of staff in in middle grade bands. Only 11 per cent of very senior managers in London are BME staff. The capital has the lowest proportion of BME staff in the country – 69 per cent – who believe their trust provides equal opportunities for career progression and promotion.
The workforce race equality standards were introduced two years ago following a report in 2014 by Middlesex University research fellow Roger Kline, which exposed "glacial" change in the proportion of senior NHS positions held by people from BME backgrounds with barely any improvement over eight years.
The latest report by the NHS Equality and Diversity Council shows some improvements, including the number of BME nurses and midwives who have moved from lower grades to more senior positions, as well as BME staff moving into senior management.
Data in the report is based on information published in the NHS staff survey in 2016, and trusts' self-assessed performance against national indicators. It includes regional breakdowns of performance, and ranks trusts where data suggests practice is above and below average. The report also sets out what organisations that are starting to see continuous improvement in tackling discrimination are doing to achieve this success.
Simon Stevens, chief executive of NHS England, said the report showed signs of progress in the NHS but added: "No one should yet be comfortable or satisfied with what these figures show overall, and many employers still have much to do before the NHS can declare mission accomplished on this critical agenda."
Regional chief nurse for London Professor Oliver Shanley told HSJ: "Many London NHS organisations are working hard to address the issues raised in this report, and we know there is good practice emerging across the capital. However we recognise that improvements are needed across the board to ensure workforce equality in London, where we have the most diverse workforce in the country.
"Along with the action being taken at a national level, we continue to work closely with London's NHS community to support improvements. We have already met with senior NHS leaders including HR directors, chief nurses, and the regional trade unions to discuss how we can support progress for all staff in this area."