Three mental health trusts to form partnership to improve care pathways and make back office savings
South London London and Maudsley, Oxleas, and South West London and St George's Mental Health trusts are already working together
Three trust chief executives have said their new partnership will not create expensive "governance castles" but will focus on making back office efficiencies and improving care pathways.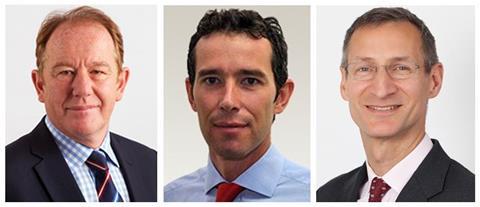 South London and Maudsley Foundation Trust, Oxleas FT and South West London and St George's Mental Health Trust have agreed to form a partnership focusing on how they can save money and better integrate services.
The leaders of the mental health trusts insist the partnership is not a merger or about creating new "governance castles". They told HSJ the focus is on improving services in line with the area's sustainability and transformation plan and making savings in line with the Carter review.
The trusts – which cover 12 south London boroughs with 3.2m patients – are already partners in a £70m pilot project for devolved commissioning of low and medium secure forensic services. They are now expanding their work together to include more care pathways and integrate back office services.
Initial plans include closer collaboration on:
legal services, with plans to save £180,000;
HR, including creating a staff passport by 2017 to enable employees to move between trusts more easily;
sharing the employment of a freedom to speak up guardian, with the potential to save £50,000;
estates, looking at the potential to share office and clinical space;
quality improvement; and
procurement and maintenance contracts.
The trusts' chief executives – South London and Maudsley's Matthew Patrick; David Bradley at South West London and St George's; and Ben Travis at Oxleas – stressed there were no plans to merge the organisations or have one chief executive.
Dr Patrick said: "It's a group model. We are really focused on delivering services and doing things which make a difference and less interested in building new governance castles and spending large amounts of money."
They also told HSJ they plan to bid for devolved commissioning powers for tier four children and adolescent mental health services when the next round of pilots is announced.
A number of back office functions will be reviewed during the next financial year with a view to improving collaboration and making efficiencies, including potentially having a shared statutory freedom to speak up guardian, which could help the trusts save £50,000.
The partners will also look at their estates and clinical pathways, with a view to reduce the duplication of services.
They have also hired a joint programme director to support the partnership and report to a joint steering group.
An independent review of the trusts' legal services was completed this month and they are looking to implement its recommendations to cut £180,000 from the joint £1.8m cost of legal fees last year.
The staff passport, which is still in discussion, aims to allow staff to move between the trusts without having to be go through new starter training or repeated disclosure and barring service checks
Mr Bradley said the partnership will allow the trusts to make efficiency savings in line with the recommendations of the Carter review.
He added: "This is us saying we have more in common with each other than some acute trusts – we employ staff the same way and have similar challenges. This is our response to how we get greater efficiency."
Mr Bradley said the partnership will be based on a "risk and reward" agreement to outline how the risks and benefits are split between the trusts. He said: "We know we will make savings, so how do we share those together?"