Today, most people with one long term disease in the UK typically have others, so dealing with multimorbidity requires rethinking the role of medicine, notes Don Redding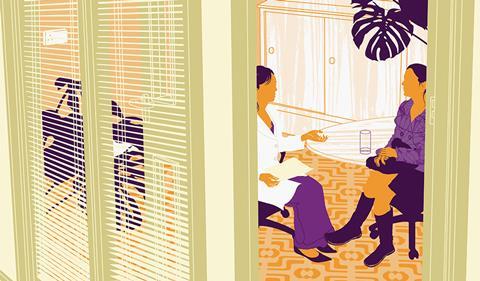 A new 10 year plan for the NHS opens up many perspectives on where the priorities for action lie.
A service user perspective quickly identifies a core challenge – one that questions the role of medicine, the organisation of services, the fundamental approach of consultations and the balance of spending on both treatment and workforce training. This is the challenge of multimorbidities.
The challenge is already here. People with long term conditions consume the majority of healthcare. And although nationally the number of people who have several of these conditions is uncertain, wherever good population health data is compiled a startling incidence is revealed.
In Somerset, the Symphony programme found that in the major disease groups – diabetes, coronary heart disease, COPD, stroke and cancer – more than half the patients had three or more conditions. Only 13 per cent of people with Type 2 diabetes had it as a single condition.
As the Academy of Medical Sciences reports, "most people with one long term disease typically have others". Or, as the population health consultancy Sollis puts it, based on work in Slough and elsewhere, "Multimorbidity is the norm". And this is not just for older people, but across the age range.
Fragmented care
For people with multiple conditions, current care is fragmented, frustrating, of less than good quality and potentially unsafe. Based on both research and on what people with multiple conditions tell National Voices, here is what it can look like.
No single consultation is long enough. You don't get proactive planning. You try to hold off from contacting the GP, but then symptoms change or get too much, so you finish up with many urgent, episodic and reactive appointments.
You tell your story dozens of time to different professionals. Each wants a different story, perhaps about a different part of your body. Few of them seem to know much about you, or to show interest in your own management strategies. They give advice about one part of your needs and treatment. Sometimes, the treatment goals conflict.
You have a big job of work just to manage the impact of treatment, let alone manage your wellbeing. You have a cupboard full of medicines, taken and renewed at different times. It's hard to remember fully what each is for, and you don't know how they react with each other. They are not reviewed together. You struggle to stick with some of them, but daren't tell the doctor.
For people with multiple conditions, current care is fragmented, frustrating, of less than good quality and potentially unsafe
Endless referrals, tests and investigations create a constant round of trooping to clinics, and perpetual uncertainty about pending results.
Your sense of a plan, and of how you can best manage, may not survive the next contact with services. You are much more likely than people with one condition to have an emergency admission to hospital, where diagnoses and medications are changed, and you come out with inadequate support or information about what to do next.
You live with pain, reduced functionality, lowered quality of life, anxiety and stress, but these factors are often unspoken. Mental and physical health is not addressed by the same professionals. Expected to follow protocols and treatments, you are never asked what matters most to you.
If this is the "norm" now, it will only become more so. A Newcastle University model predicts that between 2015 and 2035 the proportion of people with four or more conditions will double, including more than half of people aged 65-74, the majority having both physical and mental ill health.
What does this mean for a 10 year plan?
First, there is no way to "treat our way out". The role of medicine will have to be rethought. Medicalising everything, overidentifying and overdiagnosing will lead both to outrageous costs and an insupportable "burden of treatment" for patients.
Professional leaders are already promoting "minimally disruptive medicine", that fits better into people's lives; or "realistic medicine", as described by Scotland's chief medical officer, which personalises and simplifies care.
Experts in self management describe their goal to reduce the dominance of the medical domain of their lives, balancing it with the emotional and social domains where they live successfully with a changed outlook. Likewise, services need to rebalance clinical with psychological and social support, drawing on community contributions.
Second, the service model of the last two decades needs challenging. National Institute for Health and Care Excellence Guideline 56 on managing multimorbidities states that single disease guidelines, pathways and protocols may become positively harmful. NICE recommends assessing people for a "tailored" approach – which we would call "person centred", or "personalised".
Third, structural reforms such as integrating care systems, or scaling up primary care will not in themselves touch this challenge. The care goal has to change, from doing things to people, to working with them ("supporting self management").
Structural reforms will not in themselves touch this challenge. The care goal has to change, from doing things to people, to working with them
That may sound simple – and professionals often think they are already doing it – but it takes a different set of conceptual, cultural and behavioural norms; deploys skillsets that are more like health coaching; and means funding interventions that are effective, but currently marginalised, such as mass education for self management.
Fourth, the "front gate" to any such "tailored" approach has to be a regular cycle of care planning consultations and reviews to help the individual identify their goals, and tailor support as required. Patient surveys suggest only 3 per cent of people with long term conditions currently have that opportunity.
Finally, multimorbidities are an equality issue. People in deprived or ethnic minority groups, who have low health literacy, who are less likely to be active in managing their health or in seeking early access to services develop more conditions, and get them 10-15 years earlier, than people in affluent areas.
A core component of place based population health management must be to develop excellence in targeting tailored care approaches first and foremost to the people who have most to lose, but potentially also most to gain.
Don Redding is director of policy, National Voices, a coalition of national health and social care charities.