Glenn Douglas moves from trust chief role to lead STP full time
Led Maidstone and Tunbridge Wells Trust for a decade
Second Kent acute chief executive departure announced in a week
The longstanding chief executive of Maidstone and Tunbridge Wells Trust is stepping down to run the Kent and Medway sustainability and transformation partnership full time.
Glenn Douglas has led the trust since 2007. He was the senior responsible officer for the STP part time since it was set up last year. However, yesterday it was announced he would leave the trust to do the STP job full time.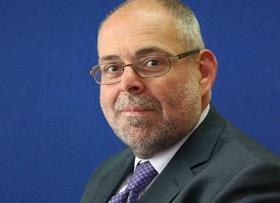 His decision to focus on the STP leaves two Kent acute trusts – MTW and East Kent Hospitals University Foundation Trust – with acting chief executives, after Matthew Kershaw's resignation from East Kent last week amid poor emergency care performance.
Jim Lusby, deputy chief executive, will be acting chief executive of MTW until a permanent replacement is appointed. Mr Lusby joined the trust in 2015 and previously worked at the NHS Trust Development Authority, the prime minister's delivery unit and King's Health Partners.
Mr Douglas said: "It is with some sadness that I leave my current role. My time at Maidstone and Tunbridge Wells Trust has been extremely rewarding. However, I know the trust will continue to go from strength to strength, as well as remaining a key partner in the wider Kent and Medway health and care plans for the future."
Trust chair David Highton said: "Glenn joined the trust at its lowest ebb in 2007. Through his leadership and the continued hard work of our staff, MTW has improved the quality and safety of the care it provides tens of thousands of patients every year."
Mr Douglas was brought in after a serious clostridium difficile outbreak and a damning report from regulators. Although the trust has sometimes struggled financially over the past decade, he has overseen the successful centralisation of services at a new build hospital outside Tunbridge Wells and the restoration of the trust's reputation locally.
The Kent and Medway STP will be involved in several controversial reconfigurations over the next year with plans to reduce the number of units providing immediate care to stroke patients, and changes to acute care in East Kent. Many trusts and clinical commissioning groups in Kent are also in deficit.
Felicity Cox, NHS England director for the South East, said Mr Douglas's appointment followed an open recruitment process and would "strengthen" what the STP could achieve.
Source date
19 September 2017