Maidstone and Tunbridge Wells Trust now planning for deficit up to £21m
Working capital support sought from Department of Health
Trust is in financial special measures with a new chief executive joining in January
A trust in financial special measures is to seek up to £15m of working capital support from the Department of Health after its planned deficit quadrupled.
Maidstone and Tunbridge Wells Trust had a control total for 2017-18 of a £4.5m deficit, before sustainability and transformation funding, but internal forecasts now show it will have an end-year deficit between £18m and £21m, before STF.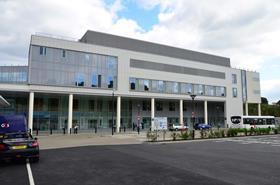 After eight months of the financial year, it has a deficit of £10.7m before STF – more than £5m behind plan.
The trust board, meeting today, is being asked to seek up to £5m of funding in each of the remaining three months of the financial year. It expects to be able to access the money at 3.5 per cent interest but a board paper warns the DH may decide to apply a higher rate of 6 per cent. NHS Improvement has already approved the £5m loan for January.
Earlier this year HSJ highlighted the huge debts being accrued by troubled providers. Interest rates on the loans range from 1.5 to 6 per cent with those in special measures charged higher rates. Former NHSI chief executive Jim Mackey told HSJ earlier this month it was "absolute madness" that trusts in special measures were being charged up to 6 per cent interest on DH loans.
MTW's cost improvement plans were meant to save £31.7m this financial year but after eight months, £7.7m of this is still unidentified and the trust had only achieved £13.4m in savings. It expects to fall short of its plans by £8.4m.
The trust has been in financial special measures since July 2016 and had a financial improvement director – Bolton Foundation Trust financial director Simon Worthington – in place from August 2016 to January 2017.
In mid-2016-17, it accepted a control total that would have required £37m of improvements and would have enabled it to deliver a surplus of £4.7m after STF support. It finished the year with a deficit of £10.9m including STF after it was not allowed to transfer £4m of capital to revenue.
Last week, the trust announced former St George's University Hospitals FT chief executive Miles Scott had been appointed to the lead MTW. He will join the trust next month.
Source date
19 December 2017