Chris Hopson says NHS had been "insufficiently celebratory" about stopping deficit from "running out of control"
Provider deficit reduction shows trusts can deliver when given "sensible plans", he says
Refuses to rule out providers hitting £580m deficit target but says there is "risk"
Keeping the provider sector deficit under £1bn in 2016-17 would be "an extraordinary achievement", the chief executive of NHS Providers has said, despite trusts being set a target of £580m.
Chris Hopson told HSJ he was not ruling out that trusts would hit NHS Improvement's "control total" target for the sector, but said there was a "risk" of missing it with a challenging winter ahead.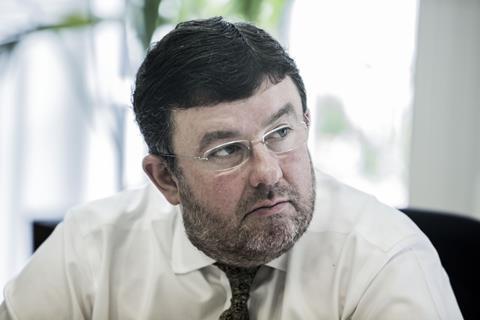 He said it was important the hard work by trusts to "stop the deficit train" running away and to increase cost improvement gains, which were 12 per cent more than last year and up to £3.2bn, was recognised.
Mr Hopson said: "Provider deficits were running completely out of control. If the trend had continued we would have been at a first half 2016-17 of about £2.4bn. I think we have been insufficiently celebratory about the fact that because of a huge amount of work at the front line we have stopped that deficit runaway train.
"To be frank, I don't think it matters massively about whether it's minus £580m [at the end of the financial year], minus £670m, which is where we currently are, or minus £800m. Anything less than £1bn would be an extraordinary achievement."
Official mid-year performance forecast figures published this month suggested the NHS provider sector would end the year with a combined deficit of £669m – £89m worse than planned.
Although worse than the £580m deficit "control total" for the sector, the forecast for 2016-17 is inside the £800m that commissioners have held back as a contingency fund in case of provider overspending.
Mr Hopson repeatedly stressed that while it was "very easy for everyone to say this is all going to hell in a handcart" there was clear evidence the NHS was capable of delivering on "sensible plans".
"If there is a sensible plan, and it's properly funded and supported, like eliminating the deficit – a classic example where Jim Mackey came up with a really good plan… then we do deliver," he said.
He warned that "one slight cause for concern" was that trusts had been planning to make 91 per cent of the savings recurrent, but the first half of the year shows that only 75 per cent were recurrent. While this could be problematic in future, he said performance this year should be applauded.