CMA says merger of Manchester trusts will benefit patients
Central Manchester University Hospitals and University Hospital of South Manchester have already formed interim board
Trusts are looking to complete transaction by October
CMA accepts financial pressures have "dampened the role of competition" in the NHS
The Competition and Markets Authority has cleared the planned merger of two major teaching trusts in Manchester.
The regulator said the merger of Central Manchester University Hospitals Foundation Trust and University Hospital of South Manchester FT would bring "substantial benefits" for patients outweighing any damage caused by a loss of competition.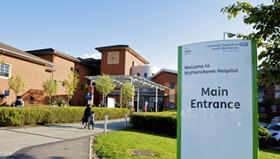 The deal is seen as a key element of the transformation plans for the city of Manchester, as well as the Greater Manchester devolution project.
The trusts have already formed an interim board and are seeking to complete the transaction by October.
In June, the CMA said it accepted financial pressures have "dampened the role of competition" in the NHS.
HSJ previously revealed the trusts' plans to reconfigure services across eight specialities, which is expected to improve outcomes and deliver efficiency savings of up to 10 per cent.
The CMA told HSJ this is the first time it has cleared any merger on the relevant customer or patient benefit grounds, after making an adverse finding on competition.
It added in a statement: "The benefits of the merger include reductions in patient mortality, clinical complications and infection rates.
"Patients who are expected to benefit from the merger include those at risk of heart attacks or strokes, and those who need vascular surgery or kidney stone removal…
"In considering the merger, the CMA received advice from NHS Improvement and consulted with local commissioners, local authorities and the devolved health and social care body in Manchester and NHS England, all of whom expressed strong support for it."
In their submissions to the CMA, the trusts submitted 128 pages outlining the expected patient benefits.
They also argued the merger should be viewed in the context of the financial deterioration and reduced autonomy of foundation trusts.
In a milestone decision in 2013, the CMA blocked the merger of Royal Bournemouth and Christchurch Hospitals FT and Poole Hospital FT.
However, the regulator said of the Manchester merger in its provisional report: "The provisional findings report has found that significant financial pressures in the NHS along with local plans (in response to policies from commissioners and national regulators) which focus on greater collaboration and integration between healthcare providers, have dampened the role of competition between the trusts."
The long term plan is for North Manchester General Hospital to transfer into the new trust. The hospital is currently run by Pennine Acute Hospitals Trust.