STRUCTURE: Inpatient specialist vascular services in Kent are likely to move to one site following a review by NHS England.
Currently inpatient services are provided by Medway Foundation Trust and East Kent Hospital University FT, with some patients from the north and west of the county travelling to London. Any loss of services is likely to be highly contested as both areas have a high level of cardiovascular need.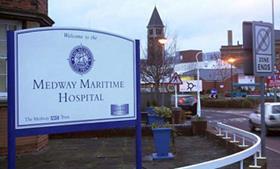 In comparison with the national specifications both sites carry out inadequate numbers of the main vascular procedures, don't have enough specialist staff – in particular consultant surgeons and interventional radiologists – and there are concerns about the specialist facilities available.
A report to the Kent and Medway NHS joint overview and scrutiny committee said a clinical reference group felt only a single site solution was clinically acceptable. It is likely that some patients will continue to go to Guy's and St Thomas' FT in London.
The report said: "There are inadequate population levels to generate the required minimum activity levels to meet the minimum standard set when delivered over two inpatient sites. The ability to recruit to two units is currently difficult and would remain so.
"Running a shared rota may leave patients unsupported in one of the units at certain periods creating an unacceptable clinical risk."
Moving to one site would mean some patients had to travel further for inpatient care but outpatient care would continue to be provided closer to home using a "hub and spoke" model.
The report to the committee did not say which of the two sites was likely to be chosen. However, the procurement process would determine the inpatient site that can deliver the key specifications for the service.
The proposal is likely to go to public consultation in June, dependent on sign off by NHS England and the timelines required by purdah.