REGULATION: Medway Foundation Trust is set to remain in special measures while regulators consider "the best option to improve services" after it was again rated "inadequate".
The trust, which has been in special measures for 30 months, has already been receiving support from Guys and St Thomas' FT since March. Neither the Care Quality Commission nor Monitor would comment on what options are being considered.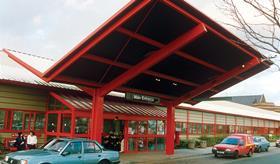 The CQC rated the trust as "inadequate" for safety, responsiveness and being well led after CQC inspectors raised concerns about people waiting too long to see an accident and emergency doctor. The trust has now been told to review its senior leadership to ensure "efficient, supportive and quality leadership" after the CQC described its board capability as "questionable".
Professor Sir Mike Richards, chief inspector of hospitals, said immediate safety concerns raised in the inspection had been dealt with but he was not satisfied that underlying issues had been resolved. "It is disappointing to report that performance may even have deteriorated in some areas, despite the support which has been offered to the trust up until now," he said.
He added: "It is our shared view with Monitor that this situation must not be allowed to continue. It is clear that the trust cannot solve these important issues on its own, and will require continued support for the foreseeable future.
"We are now considering, along with partner agencies, the best option available in order to improve services rapidly for the local population. In these circumstances, it would be inappropriate to recommend that the trust leave special measures."
Monitor said the support from Guy's and St Thomas' has changed since the inspection and is now focused on developing Medway's clinical leadership, improving the quality and effectiveness of how care is managed, and improving care for patients.
Medway chief executive Lesley Dwyer said: "We know we need to improve the services we provide and are absolutely focused on doing just that. The trust has suffered from years of instability and poor leadership and governance. This cannot be remedied overnight.
"We assessed ourselves as 'inadequate' ahead of the inspection in the summer and have been taking action since then to improve the care we provide. However, there are a whole range of new measures we must take, immediately."
The CQC outlined a long list of actions the trust needed to take including; improving patient flow; ensuring staffing levels matched patient need; ensuring clinical oversight of cancer patients waiting under the two week pathway; and reducing exposure to radiation in the diagnostic imaging department. It said incidents were not consistently reported, the hospital estate was in poor condition, and the trust remained an outlier for mortality.
Executive members of staff and stakeholders reported little confidence in some members of the board. Some reported that board members lacked the necessary "competence, gravitas and attributes" to drive forward improvements. A small minority of staff felt bullied or harassed.
Source
CQC and Monitor statements
Source date
7 January 2016