New guidance from NHS England sets out a pathway for people with long term conditions to receive IAPT linked to both mental and physical health services, notes Dr Annabel Price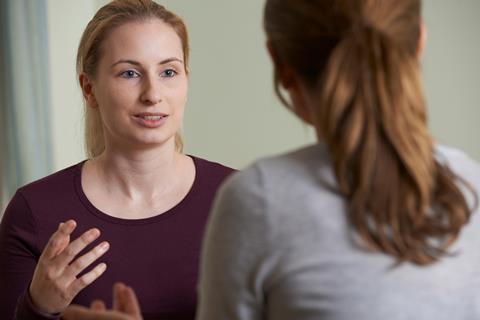 "I can go to one place, which is local to me, to receive care for my mental and physical health needs. My mental health problem will be treated with the same urgency, compassion and respect as my physical health problem."
In 2018 this doesn't seem like too much for a patient to ask. And it is often, rightly, assumed that this is the case within the modern NHS. This sadly is all too often not the case.
New guidance out this week from NHS England seeks to address this. It sets out a pathway for people with long term conditions and medically unexplained symptoms to get psychological therapies, linked up to both mental and physical health services.
In short, this means that therapists will be available in "physical" care settings to support people's mental health needs, which could otherwise have gone unrecognised and unsupported, alongside their other needs.
For readers not quite sure what medically unexplained symptoms are, you are not alone. And that is exactly the problem. MUS is the umbrella term, for want of a better one, for a complex range of patient experiences for which medicine does not provide an explanation. Symptoms can include pain in different places, disturbance of function and abnormal physical sensations.
People who have mental health problems in the context of long term physical health conditions, such as diabetes, cardiovascular disease and cancer also lack services to meet their needs.
Unmet needs
This is a sizeable group, which lies right at the heart of interface between mental and physical health. We know that around 40 per cent of people with depression and anxiety also have a long term condition and an estimated 50 per cent of new hospital visits are attributed to medically unexplained symptoms.
Without effective support, outcomes for these patients can be poor, and the associated costs high. Healthcare spending on those with both mental and physical health problems is around 50 per cent higher than for those with physical health problems alone.
Around £1 on every £10 spent by the NHS on working age people goes to treating MUS. Patients with a mix of symptoms will frequently attend primary care or accident and emergency to seek treatment, usually resulting in a referral to a relevant medical or surgical outpatient department for further investigation.
Around 40 per cent of people with depression and anxiety also have a long term condition
The clinical and economic case for targeting these people as a group to support better is loud and clear.
I hope that this guidance will lead to better access to targeted psychological care for people struggling with physical symptoms. We have a great opportunity to direct the resources already provided via Improving Access to Psychological Therapies to where, and when, patients most need it, in tandem with the wealth of skill and experience that liaison psychiatry provides for patients with more complex or severe illness.
More widely, I hope that it will prompt a step forward in staff who focus on physical healthcare increasing their awareness of their patients' mental health and towards implementing the recommendations within the Treat as One report to properly bridge the gap between mental and physical healthcare in general hospitals.
Case study
At Addenbrooke's Hospital we have embedded IAPT trained psychological wellbeing practitioners within cancer and diabetes services. The MacMillan Gynae-Psychoncology Service provides assessment and a range of interventions to support the mental health of women with gynaecological cancers across a range of severity and complexity, fully integrated into oncology services.
The service is able to offer one-to-one and group low intensity interventions tailored to the needs of the patient group. The practitioner is supported by a psychologist and liaison psychiatrist who provide supervision, training and direct intervention for those with more complex or severe difficulties.
At Addenbrooke's Hospital we have embedded IAPT trained psychological wellbeing practitioners within cancer and diabetes services supported by a psychologist and liaison psychiatrist
This pilot service was launched after extensive consultation, championed by oncology clinicians who have recognised the unmet psychological need of people living with cancer and patients who have campaigned for better psychological care. We hope to expand services over time to the wider population of people living with cancer and other long term conditions.
Multidisciplinary working here is critical, to provide a basis of expertise and experience on which to build fully integrated patient services. Area wide assessment by commissioners of existing services is essential to ensure that they can most effectively work together. Careful evaluation will be key to identifying the most successful models of collaboration.
Feedback from a patient in Cambridge who attended a group intervention led by the MacMillan service while receiving cancer treatment really speaks for itself about how important it is that more people across the country can access such services.
"I cannot recommend the course enough… I had lost my self-worth and esteem. [I] Hadn't worked since June 2016, couldn't sleep and do all the things I used to. This course has given me back myself."


Dr Annabel Price is vice-chair of Royal College of Psychiatrists Liaison Faculty and consultant psychiatrist at Cambridge and Peterborough Foundation Trust working at Addenbrooke's Hospital