Simon Stevens appoints Claire Murdoch on secondment from trust
Ms Murdoch will work on implementing mental health taskforce report
She is the third provider chief executive brought in for a national director role
One of the most influential foundation trust chief executives in the country has been appointed as NHS England's national mental health director.
Claire Murdoch, chief executive of Central and North West London FT, will help lead the implementation of the report published by NHS England's independent mental health taskforce, led by Paul Farmer of Mind.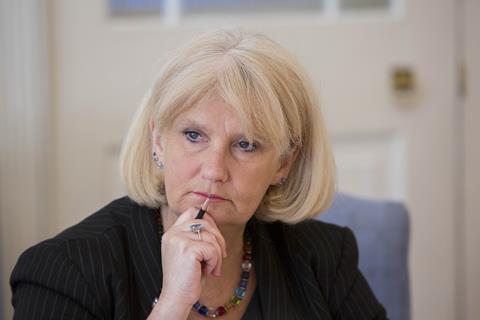 NHS England has said her appointment will be on secondment, and she will retain her trust chief executive role.
Earlier this year Ms Murdoch was featured in HSJ's Top Chief Executives as one of the 15 best performing trust leaders in the country.
She is also known for being outspoken: in February she publicly asked for her name to be taken off a letter produced by Sir David Dalton endorsing the government's final offer in the junior doctors' contract dispute. She told HSJ she was unhappy to have been listed as being in support of the offer and the imposition of the contract.
More recently she told health secretary Jeremy Hunt that she believed the government's handling of transparency league tables for trusts raised a "question of competence" for ministers. She told Mr Hunt this "undermined" his stated commitment to patient safety.
Ms Murdoch has been a registered mental health nurse for 34 years, and has led CNWL since 2007. The trust is one of the biggest mental health and community providers in the country, with a turnover of more than £450m.
She is also a director of the Imperial Academic Health Science Partnership, non-executive director at Health Education England in north west London, and chair of the Cavendish Square Group of mental health providers.
Ms Murdoch becomes one of several trust bosses brought in to national roles by NHS England chief executive Simon Stevens. Royal Marsden chief Cally Palmer was made NHS England's national cancer director in October, while Pauline Philip of Luton and Dunstable Hospital became national urgent and emergency care director in December. Like Ms Murdoch, both appointments were made on a secondment basis.
Mr Stevens said Ms Murdoch was "one of the most respected and seasoned operational leaders in mental health", and her appointment creates "exactly the right energy and drive" to begin the process of implementing the national mental health strategy.
Ms Murdoch said: "I have lived through one revolution in mental health care, when the old asylums closed, and have been privileged to be part of many advances since that time.
"It's now time to press ahead with the next generation of improvement. I can't remember a time of either greater challenge or opportunity. This is both a little daunting and very exciting."