Struggling NHS regions subject to the capped expenditure programme should not attempt to reduce deficits by cutting mental health, according to national mental health director
Claire Murdoch says capped expenditure regions should deliver the commitment of the mental health forward view
She also says the centre would not expect a "disproportionate toll on mental health" compared to the rest of the NHS
NHS regions subject to the capped expenditure process drive should not attempt to reduce their financial deficits by targeting mental health, the sector's national director Claire Murdoch has claimed.
The NHS England director also declared that private providers must not be used to prop up failing NHS services.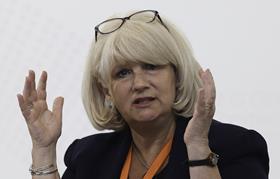 Ms Murdoch said that struggling areas being targeted by the capped expenditure pro cess will still be expected to deliver the commitments set out in Five Year Forward View for Mental Health.
Ms Murdoch said: "The deliverables of the five year forward view are not negotiable."
HSJ reported yesterday that financially struggling clinical commissioning groups were more likely to fail to hit mental health spending targets.
Ms Murdoch said she was "tracking very closely" those areas which were "hardest hit financially". She added: "We would not expect to see a disproportionate toll on mental health compared to the rest of the sector [or] to see them solving or balancing some of that deficit by coming to mental health.
"As a general rule I do think mental health should be protected because it is one of four national priorities which Simon Stevens, NHS England, the prime minister, the secretary of state are all saying is a national priority."
Turning to the role of the private providers in mental health, Ms Murdoch said "diversity of providers" was very important, but said the private sector should not being stepping in simply because the NHS does not have the capacity to meet demand.
Ms Murdoch said private providers received a lot of out of area placement patients because historically the NHS had not invested in early intervention, crisis care and home treatment teams.
She added: "What's happened is a local system has overspilled their acute care into other sectors, most notably the private sector. That's the wrong reason and the wrong way to have the private sector, or indeed another NHS provider, providing care for your patients.
"Yes, we need a mixed sector, but no, not as part of propping up pathways of care that should be providing services to you in your local area if you're in a crisis and you need them, so doing by default what we've not managed to do in a planned way.
"Private providers should have a part to play, but not because we haven't been able to implement our plan."
The latest data from NHS Digital shows 2,690 of the 4,153 new patients sent out of area between October 2016 and April 2017 were placed in private beds.
Ms Murdoch also told HSJ NHS England is preparing a plan to open 150-180 new child and adolescent mental health service beds in the next two years.
The plans were announced in NHS England's Next Steps document in March and some of the new beds will be in Cornwall, Humber and London.
Ms Murdoch said cash was available, but the centre needed to be sure the areas can staff the beds and have the estates to house them before they are signed off.
She added: "We've looked at what it will take. But money won't be the barrier to opening, it will be workforce and estates. We know there's a great will amongst providers to make this happen. We need to see the hard plans around it.
"We will open as many as we can capacity, workforce and estate allowing."
Ms Murdoch also:
said government needed to tackle social care problems in mental health and not just the acute sector; and
said there must be cross-government action to help people with mental health problems stay or get back into work.