New guidance advocates integrating talking therapies into pathways for long term conditions and medically unexplained symptoms
The guidance states physical health staff on these pathways should screen all their patients for mental health problems
CCGs expected to begin integrated commissioning in 2018-19
NHS staff will be expected to screen every patient with a long term physical condition for mental health problems, under new guidance from national leaders.
NHS England has today published the pathway guidance for improving access to psychological therapies for people with long term conditions and medically unexplained symptoms.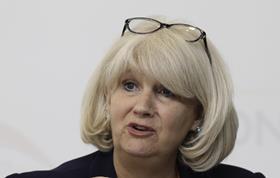 An estimated two-thirds of people with a long term condition will also have a mental health problem, with a further 70 per cent of people with unexplained symptoms experiencing depression or anxiety.
The guidance sets out how clinical commissioning groups will be expected to integrate IAPT services into pathways for long term conditions and unexplained symptom.
It said the new services should be commissioned in 2018-19 and co-located in physical health settings, mostly in primary or community care.
The new guidance added that staff treating patients with conditions such as diabetes, respiratory diseases, irritable bowel syndrome and chronic fatigue syndrome should screen them for mental health problems.
It said: "All [long term conditions or medically unexplained symptoms] pathways that involve IAPT should have mental health case recognition tools in routine use."
Therapists should participate in multidisciplinary team meetings, care planning and joint working, the guidance stated.
The Five Year Forward View for Mental Health set out a goal of integrating talking therapy services with physical health care services, with 4,500 new IAPT clinicians nationwide by 2020-21 and 3,000 of them co-located in primary care.
HSJ understands that eventually everyone working in the health service will be responsible for considering a patient's mental health on a par with their physical health.
NHS England national director of mental health Claire Murdoch said integrating talking therapies into long term condition pathways was a "game changer".
She added: "Anyone who suffers with chronic back problems, arthritis, heart disease or IBS knows that physical pain drags you down, mind and body.
"As the NHS enters its 70th year, integrating care, so that mental health is no longer seen as a secondary issue, but at the heart of people's wellbeing, is at the top of our agenda."
The guidance was commissioned by NHS England and developed by the National Collaborating Centre for Mental Health at the Royal College of Psychiatrists.
The national commissioning body selected 37 early implementer sites to develop integrated psychological therapy services, with the first wave of 22 sites announced in October 2016, and the second wave of 15 sites launched in September.
In its evaluation of the sites NHS England, found the integrated services reduced A&E attendances, GP appointments and hospital admissions in the cohort of patients.
Cambridgeshire and Peterborough CCG found introducing IAPT services to diabetes, cardiovascular and respiratory pathways saved £193,000 from October 2016 to September 2017.
The new guidance estimated that integrating IAPT and long term condition pathways reduced the cost per patient per year from £5,670 to £3,910.
The guidance builds on the plans set out in the forward view implementation document, to increase access to IAPT to 1.5 million people a year.
The new guidance was pledged in the implementation plan, which said it would be published in 2016-17. NHS England told HSJ it had been consulting with stakeholders and providers to get it right.
Ms Murdoch added: "Already, many parts of the country have shown the significant progress which can be made by integrating care, with improved outcomes for patients and lower costs for taxpayers."