32 CCGs predict they will miss the mental health investment standard for 2017-18
Nine CCGs on course to miss it for the second year in a row
Eight CCGs expected to cut spending in cash terms in 2017-18
National mental health director Claire Murdoch says it is "not good enough" that 15 per cent of CCGs missed the standard
More than one in 10 clinical commissioning groups were forecasting they would miss the national mental health spending mandate for 2017-18, latest NHS England data shows.
Figures from the mental health dashboard show 32 out of 207 CCGs were expecting to miss the mental health investment standard for 2017-18.
The data, which was submitted by CCGs, shows the position at the end of the second quarter of 2017-18.
Eight CCGs are reporting their investment in mental health services will be cut in cash terms.
However, 85 per cent of CCGs were predicting they would successfully achieve the standard, with four commissioners increasing mental health spending by more than 10 per cent.
Ten CCGs planning to increase mental health spending the most
| CCG | 2016-17 actual spend (£'000) | 2017-18 planned spend (£'000) | Year on year increase (£'000) | % increase |
| --- | --- | --- | --- | --- |
| Doncaster | £64,600 | £73,500 | £8,900 | 13.78% |
| Shropshire | £42,000 | £47,100 | £5,100 | 12.14% |
| Eastbourne, Hailsham and Seaford | £28,500 | £31,900 | £3,400 | 11.93% |
| Southend | £28,000 | £31,200 | £3,200 | 11.43% |
| Hastings and Rother | £33,300 | £36,200 | £2,900 | 8.71% |
| Bassetlaw | £19,700 | £21,300 | £1,600 | 8.12% |
| Barnsley | £47,600 | £51,400 | £3,800 | 7.98% |
| Aylesbury Vale | £30,000 | £32,200 | £2,200 | 7.33% |
| Darlington | £22,000 | £23,500 | £1,500 | 6.82% |
| North East Lincolnshire | £28,800 | £30,700 | £1,900 | 6.60% |
NHS England made meeting the standard by increasing mental health spending in line with overall programme allocation growth a national requirement for every CCG in the 2018-19 planning guidance.
Following the publication of the dashboard last week, NHS England national mental health director Claire Murdoch told regional leaders the standard was not an "optional extra".
In a letter sent this week to CCG and sustainability and transformation partnership leaders, Ms Murdoch said raising mental health spending was a "crucial enabler" of high quality care.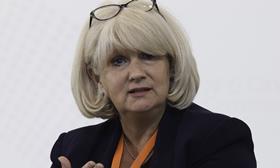 She said 15 per cent of CCGs failing to meet the standard was "not good enough" and warned that failure to increase investment would lead to intervention by NHS England.
She added: "This is a landmark moment for England's mental health services. The requirement to increase mental health spending faster than overall growth in health spending is not only a crucial enabler of high quality patient care, but a demonstration of the NHS's commitment to putting mental and physical health on a level footing.
"I also want to emphasise to you that regardless of pressures, meeting the [standard] is not an optional extra, but something we are deeply committed to and expect every CCG to achieve.
"Failing to meet the [standard] in 2018-19 would be unacceptable to us all."
Ms Murdoch said her team will speak directly to finance and operations directors at CCGs struggling to meet the target.
She said: "Where our data analysis suggests that an individual CCG is not on track to meet the standard, their financial director and operations director will be called directly by a member of the mental health unit or myself, to seek assurances on local and regional plans to put this right."
It is unclear what action the centre will take with CCGs that consistently fail to meet the standard.
Of the 32 CCGs predicting they will miss the standard in 2017-18, nine failed to achieve it in 2016-17 as well.
CCGs missing the mental health investment standard
In 2016-17 and 2017-18:
Bedfordshire
Isle of Wight
Kernow
Mid Essex
Richmond
Scarborough and Ryedale
South Gloucestershire
South Lincolnshire
Vale of York
In 2017-18 only:
Bristol
Castle Point and Rochford
Central London (Westminster)
Chorley and South Ribble
Croydon
Eastern Cheshire
Fareham and Gosport
Greater Preston
Herefordshire
Hounslow
Mansfield and Ashfield
Newark and Sherwood
North Lincolnshire
North Somerset
Northern, Eastern and West Devon
Northumberland
Redbridge
South Eastern Hampshire
South West Lincolnshire
St Helens
Stoke on Trent
Thurrock
Walsall
Mental health charity Mind's policy and campaigns manager Geoff Heyes said it was "particularly concerning" some CCGs were repeatedly failing to meet the standard.
He said: "It is hugely disappointing that some CCGs are choosing not to increase investment in mental health services, despite clear instruction from the government and NHS England to do so.
"We are already into the third year of the government's five year plan for improving mental health care and yet too many CCGs still aren't investing enough in services to make sure this plan is delivered."
An investigation by HSJ last month found that 21 out of 172 CCGs that replied to freedom of information requests (12 per cent) said they were forecasting not to hit the standard in 2017-18.
Our analysis found 24 CCGs were predicting to cut mental health investment, compared to eight in the dashboard.
Eight CCGs planning to cut mental health spending
| CCG | 2016-17 actual spend (£'000) | 2017-18 planned spend (£'000) | Year on year decrease (£'000) |
| --- | --- | --- | --- |
| Northumberland | £90,900 | £84,400 | -£6,500 |
| Croydon | £56,500 | £53,300 | -£3,200 |
| Isle of Wight | £28,000 | £26,600 | -£1,400 |
| Walsall | £58,600 | £57,300 | -£1,300 |
| Castle Point and Rochford | £25,200 | £24,500 | -£700 |
| Bristol | £99,800 | £99,400 | -£400 |
| Kernow | £126,200 | £125,800 | -£400 |
| Eastern Cheshire | £39,900 | £39,600 | -£300 |